"Mermaids Have Friends Too" by Anne Grannis
---
Humans combined with animals have become figurative fantasy pieces created by artist Anne Grannis.
"Clay is like this amazing stuff," Grannis says. "You can make anything out of it."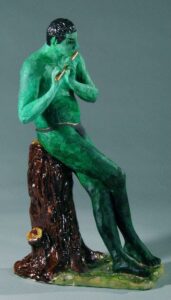 Grannis is the Morro Bay Art Association's featured artist at the Art Center Morro Bay until April 4. She has been a member of the gallery since she and her husband, Lee Engdahl, moved from Half Moon Bay to Grover Beach in 2017. She began volunteering on regular basis, recently volunteered to be workshop director, and has taught several classes at the gallery.
"Nature is such an inspiration," the artist says. She enjoys creating works of art based on what she sees, then tweaking them to be unique.
For her current show, Grannis has brought in some 62 pieces: most are table-top sculptures, some are small pieces, and only a couple are close to life-size.
"I wanted to be able to pick up [my creations]," she says. "Artists find a size they are comfortable with and stick with it. Jewelry is too small for me." However, she has created some jewelry and it is included in the show.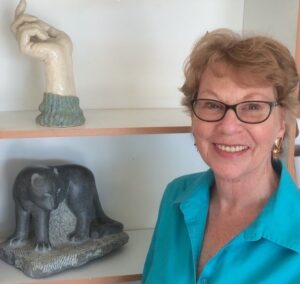 "My mother was an artist and both grandmothers were artists," she says. "It was an easy transition. Art material abounded. We weren't allowed to be bored."
Grannis, a transplant from New England to California, found that being part of an artistic family was a privilege she relished. The master sculptors Michelangelo, Rodin and Bernini are her heroes.
Because of her fascination with other places, people and animals, it is no accident that scuba diving is her second favorite thing to do. She draws inspiration from these surreal worlds where science fiction and mythology merge.
Experiment. Don't stop. Keep going. Keep finding inspiration everywhere. Even if it doesn't come out the way you want it, you've learned something."
Grannis wasn't encouraged to make art a living. She thought she wanted to be a fashion designer or veterinarian. So . . . she did custom tailor-work for more than 25 years. "I don't have an art degree, but I have taken lots of art classes."
And she has taught many classes. She can be found teaching sewing through Lucia Mar Adult School, and she created the Meetup group Creating and Making Ceramic Sculpture.
Living in the Bay Area, she did a lot of group shows and took part in the Pacific Art League, Fort Mason Art School and various studios. She likes to create with others. "It is fun to share ideas with other people. I get more done with people around."
Her advice to other artists? "Practice, practice, practice. It doesn't happen overnight. Experiment. Don't stop. Keep going. Keep finding inspiration everywhere. Even if it doesn't come out the way you want it, you've learned something. Make another one."
All the art pieces in the show are for sale, and she says people have been very receptive to her creations. She sold several pieces opening day. Prices depend on how big and how detailed. "I'd really like these pieces to find good homes."
The exhibit continues through April 4.