The dream of owning a bookstore brought Linna Thomas and Janet Brown from Oregon to Morro Bay, where they first opened Coalesce Bookstore in July 1973. Thomas became sole proprietor five years later and oversaw the eventual move from a little house on Harbor Street to the present location at 845 Main Street. The good news, according to Thomas, is that independent bookstores are thriving. As she approaches 50 years of owning Coalesce, Thomas talks about favorite books, the secret of her success, and memories from the wedding chapel.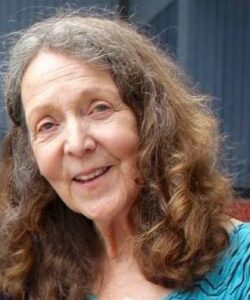 David Congalton: The bookstore will be celebrating 50 years this summer. Congratulations! How does that make you feel?
Linna Thomas: Fifty years! Being in business that long makes me feel old! More importantly, I feel blessed beyond words to have partnered with Coalesce these many years. I treasure my crew, who are the best staff ever. How lucky we are to be located in Morro Bay, my home that couldn't be more beautiful. Local customers and friends are generally laid back, friendly and supportive, while an endless stream of travelers provide zest and interest. Let's face it: who wouldn't want to be me?
DC: How do you explain the longevity of Coalesce? Not many small businesses make it 50 years.
LT: I attribute our survival to a mixture of hard work, good luck, and providence. The hard work has been provided by countless supporters, but most importantly by my staff. My current crew of four has been with me for a total of 96 working years. I really want to give a grateful shout out to my staff by name: Sherri Hereford (48 years), Joanne Hand (38 years), Roxanne Styles (8 years), and Trang Nguyen (2 years).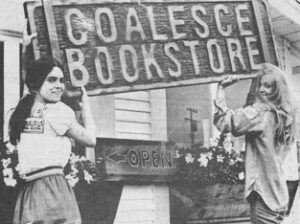 There has been very little turnover in employees at Coalesce over the years, which means we get very well acquainted with each other, the bookstore, our customers and our community. Business gears are greased into friendships. Our customers share us with their friends and families. Over time, day by day, our loyal customer base grows us into a steady business.
Good luck has followed us all our years. For example, at just the time I needed to move from our original location in a little house on Harbor Street (1973-1982) I was led to call Margery Smith, who owned the Book Shelf Bookstore on Main Street and was ready to retire. Margery and I hatched a plan over the phone that she honored in spite of multiple better offers from other local business owners who wanted to rent her building. In 1986 I was able to purchase the property.
And finally, there is an element that I call mystical for want of a better word. I believe in the power of books to not only entertain but also to help people change and improve their lives. I believe that Coalesce does good in the world, especially in combo with the weddings, memorials, music, classes, etc. that happen in our Garden Chapel. I believe that the bookstore or something akin to it would have existed, and will continue to exist, with or without me.
DC: Have you decided yet if you're going to do anything special to celebrate in July, or is that still being decided?
LT:  Not yet. We're definitely excited about our 50th anniversary and want to do something special but we have no concrete plans yet. Stay tuned.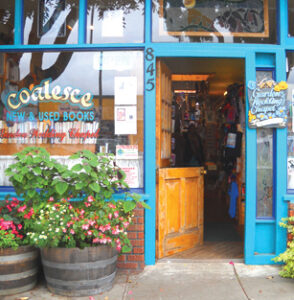 DC: We definitely will. Meanwhile, as you know, the obituaries for traditional bookstores were being written about a decade ago. Now it seems that they're coming back. A new bookstore just opened in Arroyo Grande, for example. Am I overly optimistic or do you sense a renaissance, as well?
LT: There has definitely been a renaissance in the world of independent bookstores over the past 10 years. According to independent bookstore statistics by the Census Bureau and The American Booksellers Association, as of 2022 there were 2023 independent bookstores in the U.S, some with multiple locations.
Looking back to 2009, independent bookstore numbers had shrunk to 1,651 locations throughout the states. They then started slowly increasing, peaking in 2019 with 2,254 locations. Due to the COVID-19 pandemic, this number decreased to the current number of 2,023.
Bookstores that survived saw their sales fall nearly 30 percent during the pandemic. According to the New York Times, over 300 new independent stores have opened in the past few years in spite of the odds, many of them run by non-white owners.
Independent bookstores these days are prospering. They are resilient. They often create their own specialty niche. They take pride in finding, reading and recommending books—real recommendations from real people, an invaluable resource. They often offer cards, gifts, and music in addition to books, and often incorporate shops that serve coffee, tea, and crumpets. Having seen so many business closures during the pandemic, shoppers seem to have realized that they vote with their pocket books for who will survive.
We learned with our customers how to navigate this new way of doing business."
The deluge of support for Coalesce when the pandemic struck was heartwarming. We received support from locals and from travelers far and wide who had passed through our doors. Our customers bought gift certificates they didn't need. "Keep the change" was something we heard constantly. We instantly morphed into an online store, also offering free local delivery and curbside pick-up. We learned with our customers how to navigate this new way of doing business.
The past year of being back to business as usual has been a profitable one. We continue to have local and far-flung support. We have affiliated with Bookshop.org, an online bookstore dedicated to supporting independent bookstores and to being an alternative to Amazon for the ordering of online books. When ordering, the customer can designate the bookstore they want to support. The bookstore then receives 30 percent of the sale.
DC: Those are definitely impressive numbers. So, what books have been selling well lately? Do you notice any particular trends in genres or subjects?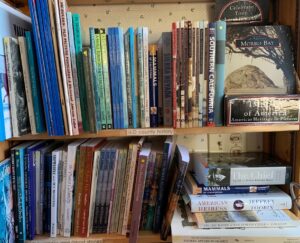 LT: The terrain of books in bookstores is constantly changing. Whatever current interests, concerns, politics and beliefs, frets and worries, etc. are abroad in the world are reflected on our shelves. Political books have been big these past years, as have books about the climate. There has of course been a huge interest in books about diversity—all races, their histories, politics, cultures, memoirs, novels, etc. Two newer books in this field are Under the Skin by Linda Villarosa and The Sum of Us by Heather McGhee.
There are a large number of ethnic books for kids and young adults that sell very well. The field of books for young adults in general has grown by leaps and bounds. We are currently re-working a section at Coalesce to accommodate the large number of young adult books we carry and have trouble keeping in stock.
On the heels of the pandemic, there is an ongoing appetite for books dealing with trauma: It Didn't Start with You by Mark Wolynn, What My Bones Know by Stephanie Foo, The Body Keeps the Score by Bessel Van Der Kolk are three popular examples. People are looking for books on death and dying and the history of pandemics.
I think people appreciate the ability to step into other worlds more than ever these days!"
The sale of cookbooks has almost come to a halt because most cooks now look to the Internet for recipes and culinary help.
There are a handful of books on Ukraine, especially A Message from Ukraine by Volodymyr Zelensky that are selling very well.
Finally, there is a big interest in books that make our customers laugh, like Cat Hair Hats for Cats, or lift them up, like Happy-Go-Lucky by David Sedaris. Through it all, fiction books, new and classics, are always our bestsellers. I think people appreciate the ability to step into other worlds more than ever these days!
DC: All these books sound fascinating, but let's drill down a bit. You're shipwrecked on a deserted island. You can have three books with you. Which three might they be?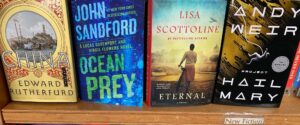 LT: If I had to pick just three books to be with me on a deserted island, I'd be in trouble!
Today I would pick a big historical novel like China by Edward Rutherfurd, Dag Hammarskjöld's journal Markings which I've had by my bed since I turned 21, and the most complete book I could find of Mary Oliver's poetry. My choices tomorrow would very likely be different, except for Markings.
DC: I've always wanted to know why you named your store Coalesce. There must be a story there.
LT: Janet Brown and I opened Coalesce together and were business partners for five years. Prior to opening, we spent weeks laboring over what to name our bookstore. We wanted a name that spoke to what we envisioned creating: a place where different types of books, different types of people with different dreams and interests, different ages, beliefs, etc. could come together and feel comfortable and safe. One dictionary definition of coalesce is "to unite into a whole" another is "to grow together." The word coalesce said what we were looking for. Unfortunately, it's a bit of a tongue twister and unfamiliar to many, especially when used as a noun. It's created confusion over the years. Some folks think we're a plant shop, Coleus, or they think the shop is named after the owner or an obscure literary figure. I love our name, but confess to sometimes wishing we'd settled on something more straightforward, like The Bookie Joint or Crossroads.
My chapel memories are for me a beautiful part of my history in Morro Bay."
DC: Having been a fan of your store for years, I think you chose the right name. You've also performed weddings over the years in the chapel behind the store. Were there any that were especially unusual or emotional?
LT:  There is no end to the tales I could tell about the chapel weddings! Weddings are emotional, unique and always special. The two key players are always different, so no two weddings are ever the same. Touchy family dynamics, emotional upheavals and last-minute panics, missing rings and/or paperwork, the frozen flower girl, the screaming ring bearer, the canine best man who decides it's time to do his business during the service, the groom who insisted on having his goldfish as attendants—my memories are endless. I remember a Hispanic couple who were repeating their vows after me: "Today I give myself to you and ask for your tomorrows." The groom repeated nervously, "Today I give myself to you and ask for your tamales." We moved on. Or there was 89-year-old Bunny, who had never been married. He arrived on his bicycle to marry his beautiful bride, a mere 88 years old. For several years they stopped in the bookstore when they visited Morro Bay. We would take a picture of them in the chapel. My chapel memories are for me a beautiful part of my history in Morro Bay.
Editor's Note: This conversation has been edited for length and clarity.