This concert was scheduled July 7, 2023.
---
If you ever have the good fortune to attend a concert by Lyle Lovett and his Large Band, be prepared to be entertained Texas-style.
All the required elements were fully on display last Friday evening at the Libbey Bowl in Ojai.
The ingredients are simple. Take 11 of the most talented musicians you can find, including legendary players on the drums and bass guitar.
Throw in three equally talented backup singers—though, sadly, the soulful and vibrant Miss Francine Reed is now retired after three memorable decades with the Large Band.
Don't forget the music. There has to be country, of course. But don't forget the jazz. Or the gospel. Or the swing. Or the extended instrumentals. And really toss a curve ball by throwing in a cover of a 1960s hit by Peter & Gordon (Peter & Gordon?).
But there has to be more than the music and all these sharp-dressed men in dark suits. You can't forget the goofy and heartfelt stories shared between songs and the good-natured, wry humor that seems to pop out of nowhere at any given moment.
And, remember, this is Lyle Lovett, so there has to be generous amounts of self-deprecation, gratitude, goodwill, and a deep sense of roots, both musical and familial.
It also helps if the music is good. If the music soars. If the music inspires. So much so that the first thing you do when you get home later is to replay your favorites of the evening again.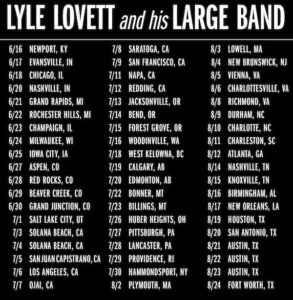 Bring all that together. The result is a concert that runs about two hours and 45 minutes. Oh, and it's not enough to pull this off just once—Lovett and the Large Band are cramming in 57 dates in less than 10 weeks on their annual summer tour. They manage to create the magic night after night.
This is a different Lyle Lovett from the one I first encountered more than 30 years ago. He's 65, now happily married and the father of six-year-old twins. Some might recall the tabloid days when Lovett was dubbed "Mr. Julia Roberts" after briefly marrying the famous actress. His hair, once resembling the aftermath of a fierce tornado, has turned gray and groomed.
There were familiar choices in the Friday night set list. One comes to expect "Stand by Your Man," "If I Had a Boat," "I've Been to Memphis," "You're Not from Texas," and "She's No Lady (She's My Wife)," all expertly delivered despite the uneven sound system in the Libbey Bowl during the first part of the concert.
But I want to note the new material, drawn from Lovett's most recent album, 12th of June, his first in a decade. Critics love the music and, after hearing some of it Friday night, add me to the list.
12th of June refers to the day his twins Will and Emma were born, and here this new Lyle Lovett is on full display. In the title track, which he performed near the end of the evening, Lovett sings of parenthood and the fragility of life.
A second cut off the album, "Are We Dancing?," came earlier in the evening, a lush ballad that seems destined for wedding receptions everywhere. It almost brought me to my feet. Hell, it almost brought me to tears.
A few other concert notes. Lovett is extremely supportive and proud of the Large Band. Every member gets multiple solos throughout the evening and Lovett takes his time introducing each player, often engaging in extensive (and humorous) back-and-forth with them on topics ranging from fishing to photography.
There was a nice moment between drummer Russ Kunkel and bass guitarist Leland Sklar during the introductions. Both are in their 70s, having played for just about every major rock music star. When Kunkel was introduced to thunderous applause, Sklar made a point of walking over and shaking his hand. Nice. My, the stories those two could tell.
I apologize publicly to the people sitting around me for singing softly to the first encore of "North Dakota," my favorite Lovett song. Sorry, I couldn't help it. It's his masterpiece.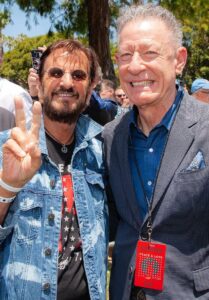 And one could only chuckle when Lovett wished Beatle Ringo Starr a Happy Birthday and explained that they had just come from Ringo's birthday party in Los Angeles. I guess my invitation got lost in the mail. Lovett certainly leads an interesting life.
And he knows it. Nor does he take it for granted. Throughout the night, the native Texan repeatedly praised the audience and his band members, and spoke openly, lovingly, of his family. The guy knows how blessed he is.
I have seen Lyle Lovett and his Large Band at least a dozen times in concert and I'd gladly see them another dozen times before we all hang it up; only Billy Joel has captured more of my ticket money over the years.
That just might shift in the next summer, or two.