Singer Lyle Lovett and I have at least one thing in common—we both made our first visit to the Libbey Bowl in downtown Ojai last week.
California has been my home for 36 years, and I've been to the town viewed by many as "Sedona West" a few times, but I meekly confess that I had never even heard of the Libbey Bowl until a few weeks ago.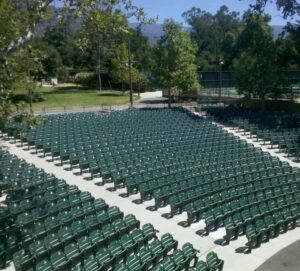 The actual venue itself is hard to miss. The 975-seat amphitheater (plus another 200-300 lawn seating) is situated in Libbey Park on Ojai Avenue, just down from the city's landmark Post Office Bell Tower.
Wander into the park, past the fountain and the playground, through the picnic area dotted with tables, veer to the right of the tennis courts, and head for the large grove of California oak trees that serve as a canopy for the stage.
The Libbey experience struck me as a throwback to another era, the concerts of my younger days. Parking in Ojai wasn't an issue and it's free. There is a small lot adjacent to the park, but most people opted for a side street and a five-minute walk.
Nor is there the intense security screening and long lines associated with many venues. You're not searched. You walk right in. The staff is effusive and friendly.
I incorrectly assumed that the Libbey Bowl must be a newer venue, but actually the place has a storied history. We're both products of the early 1950s.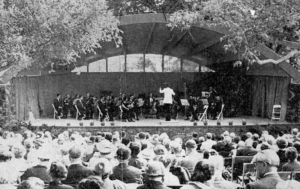 The original Bowl was built in Edward Drummond Libbey's Civic Center Park in phases from 1952 to 1957 as a home for the Ojai Music Festival. Aaron Copland officially inaugurated the venue in 1957 and audiences have been coming ever since for a variety of community and cultural events.
By 2008, however, the Libbey Bowl had suffered from more than 50 years of wood rot, termite damage, and heavy use, requiring a new facility that officially opened in 2011.
Ojai is roughly a 2.5-hour shot from San Luis Obispo, with the last 20 miles being on the winding and twisty SR 150 between Hwy 101 and Ojai. This is definitely a white-knuckle drive at night and you would be wise to book a room and stay overnight.
Also, a loud and appreciative shout-out to the great restaurant Tres Hermanas, located just across the street from the park. The menu has a New Mexico flavor and I highly recommend the stacked blue corn enchiladas. Magnifico.
Upcoming concerts at the Libbey Bowl include Al Jardine (July 21), Chris Isaak (August 6), Belinda Carlisle (August 24), and Dionne Warwick (September 1).

Free parking. Great local restaurants. Beautiful location. Intimate venue with not a bad seat in the house. No security screening.
I have a feeling that Lyle Lovett and I will both be returning to the Libbey Bowl again.