This event was scheduled July 8, 2023.
---
Certain artists, whether you like them or not, have that IT factor: creativity, talent, gravitas, or a combination of all three and more.
During his short, 85-minute solo set of deep tracks and obscure songs, Neil Young showed the near sell-out crowd in Paso Robles why he's clearly that guy. There's no musician or person on the planet quite like him.
He's an unassailable icon but a contradiction on so many levels: cranky romantic, principled rock star, and successful rebel who often questions the status quo. Ultimately, Young remains a fiercely independent artist beholden to no one—which seems to be the key to his widespread, unending appeal after nearly 60 prolific years of making music and causing trouble.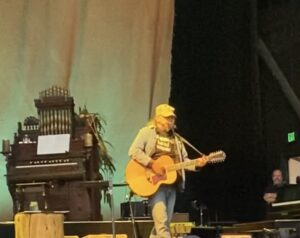 But there was no mischief or politics on a recent splendid Saturday night among the Paso Robles vineyards, only love from both the performer and audience.
After an uneventful opening set by Pasadena singer-songwriter Chris Pierce, Young punctually ambled on stage to a very warm reception, clad in denim with a black "support local music" T-shirt, a train conductor hat, and his trademark harmonica around the neck obscuring those thick, graying mutton chops.
Young may not be the king of rock and roll but he's still royalty, more like your favorite princely uncle.
After brief pleasantries, our adopted Canadian native by way of the Santa Cruz mountains dove right into his extensive catalog, alternating between acoustic/electric guitar, piano, and organ, but never without his trusty harmonica.
Young mostly let his songs do the talking, keeping banter and storytelling to a minimum. He moved very slowly and deliberately around the expansive stage, cluttered with musical instruments, a wood stove, and even a Lionel train set, probably a wise choice for the seven-decade rock and roll veteran who's fast approaching the big 8-0.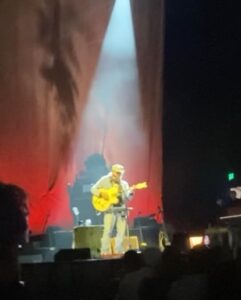 Pouring his energy and focus into the 17-song set, Young made good on his promise to feature non-greatest hits during this West Coast tour: underrated, genuine songs of love, loss and our collective place/responsibility in the modern world.
Renditions of "Days That Used to Be," "Ohio" and "Heart of Gold" got enthusiastic responses, but for me the evening highlight was a unique version of jangly guitar classic Mr. Soul that he played on the antique organ with his back to the crowd. Who else could pull off such a bold, cool move?
One encore of "Love Earth" from his latest 2022 album with Crazy Horse, World Record, came in a close second with everyone standing up and singing along.
It was an older, mostly engaged crowd but a few seat assignment squabbles broke out, kind of surprising given Young's "LOVE" theme prominently displayed at the front of the stage.
Still, the main nemesis for concertgoers nowadays seems to be our beloved smartphones. I'm somewhat guilty as well but really try to limit my photos/video/social media during live performances. A guy behind us kept searching the internet for Neil's history: Dude, you paid $200-plus for your ticket, so stop narrating his life and enjoy the show.
A special shout out to Vina Robles staff who always provide an impeccable concert experience for us live music lovers. My girlfriend and I had lawn tickets for the Beach Boys a few days before but a friendly employee walked around comping several attendees open seats down below: very classy.
In the end, the original Mr. Soul delivered an understated but heartfelt performance that confirmed his status as a musical legend. Not that it was ever in doubt.
:: Colin Jones