From "Shoe Shine Caddie," making its U.S. debut at SLOIFF this month.
On May 2, 2023, the SLO International Film Festival announced that Shoe Shine Caddie won the 2023 Audience Award for Best Central Coast Film.
---
The San Luis Obispo International Film Festival is hosting the U.S. premiere of local filmmaker Leonard Manzella's latest project, Shoe Shine Caddie, as part of its Central Coast Showcase.
Manzella wrote, directed, and co-produced (with Simo Nylander) the 63-minute documentary, which tells the story of Adrian Spears, who survives on the streets of San Luis Obispo by shining shoes.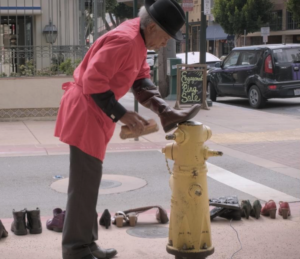 The film's teaser invites viewers to "come see him shine," and according to Variety's Steven Gaydos, "Adrian's story is a humanist fable, a journey, a lesson that is perfect for our times."
Shoe Shine Caddie documents 14 months of the 61-year-old man's journey. Free after decades of incarceration, Spears is living on the streets. Because of his criminal record, and lack of skills and education, gainful employment has proven next to impossible. Unwilling to beg for a living, he discovers the art of shoe shining. One morning he receives a call informing him he is the father of a three-year-old child. Stunned by the news, he reflects on his previous failures as a father for his other three children who are now grown. He decides this time he'll do the right thing. The battle to gain custody of his young daughter changes his life forever.
Manzella says that he spotted Spears set up on a sidewalk in front of the San Luis Obispo courthouse one morning while walking to his office. "His bright red apron caught my eye, and the brown bowler hat resting atop his head brought a smile," Manzella says. "After several weeks I finally stopped for a shine. He was friendly, but professional. He shined with pride, never once asking or sharing too much. He was a class act.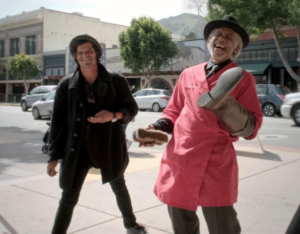 "A month passed before I scavenged my closet and brought him five more pairs of shoes that he promised ready that afternoon," Manzella continues. "They were. I paid him and asked him where he lived. He told me he was homeless."
Manzella, who is a practicing psychotherapist in San Luis Obispo, says he has worked with the homeless population, but has never come close to walking in their shoes. He says this perhaps was his chance to answer questions many people have asked themselves: Could I ever handle being homeless? What's it like? How does one survive?
"The moment I laid eyes on him it crossed my mind he would make a great subject for a documentary," Manzella says. "But the more I thought about it, shining shoes on a street corner wasn't enough of a story to support a film. So I dropped the idea for almost half a year."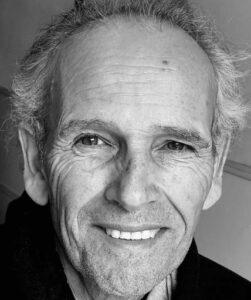 Once upon a time, Manzella enjoyed a career as a film actor that took him to many countries around the world. Returning to the United States after some 20 years, he decided on a career change, pursuing a master's degree in social work at the University of Southern California. After graduation he facilitated therapy groups for violent and mentally ill prison inmates who were held in cages, each the size of a phone booth. Based on that experience he wrote Cages, a stage play that was produced in Los Angeles and Austin to excellent reviews.
One afternoon Manzella noticed that Spears looked "a little down." Spears told Manzella that he was in a legal battle over trying to gain custody of his young daughter. "That was the thread I needed to tell a story," Manzella says. He bought a camera and went to work.
"I called my friend Simo Nylander, who I had already spoken to about my idea. He was interested, but I knew we needed someone who the camera loved in order to pull it off. So several days later we arranged to meet Adrian on his corner and film him at work. When Simo and I got back to his place and watched the footage, we knew immediately Adrian was a star."
I want people to watch the film and make up their own minds on what to take away." ~ Leonard Manzella
Manzella says Spears was a natural. "It was as if the camera didn't exist. He has to be one of the least affected people I've ever met. And he was a real trooper, too. Never once did he complain during the fourteen months we shot. Looking back, the film could have been a real disaster if he hadn't been so committed."
Having strong feelings about the political and social circumstances of homelessness, Manzella wanted to avoid preaching or making any statements with the film. He realized that many people talk about homeless people as if they are homogenous. "We don't contemplate their individuality, and we fail to consider the myriad of reasons why people become homeless."
"I wanted tell the story of one man who is homeless. I hope people can hear his story, witness his struggle, and experience him as an individual trying to survive like all of us. I want people to watch the film and make up their own minds on what to take away."
Shoe Shine Caddie will be screened at 4 p.m. on Wednesday, April 26 at the Palm Theatre, which is sponsoring the independent production. It also will be available on the festival's virtual portal from April 30 to May 7. A virtual access ticket to see the film at home during that time is $12. An all-access virtual "slofilmfest@home" pass for all of the festival's virtual screenings is available for $120.