A lifetime of service to others ended Saturday, January 28 when retired editor and publisher of the Five Cities Times-Press-Recorder, Richard "Dick" Blankenburg, passed away. He was 86.
Dick Blankenburg lived a life full of service in a variety of areas—special education, business, community—in such organizations as Special Olympics, Kiwanis, Boy Scouts, Jaycees, Chamber of Commerce, Arroyo Grande Valley Harvest Festival, and the Five Cities T-P-R.
It is apropos that many of his accomplishments were documented in the T-P-R. For instance, in a 1988 article, Blankenburg was honored by Salvatore A. "Sam" Canales, Superintendent of Public Education for San Luis Obispo County, for his contribution to public education, especially special education.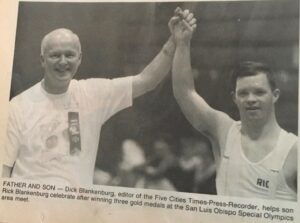 Dick and wife Maxine Blankenburg established the first support group for parents of children with special needs, and they helped bring Special Olympics to San Luis Obispo County in 1969, one year after the organization was started.
Canales also credited Blankenburg with helping support education by publishing numerous articles featuring accomplishments and events at local schools. Later, Dick Blankenburg was honored by the Lucia Mar Unified School District with the Golden Apple Award for his support of education.
In a 1991 article, it was revealed by the Arroyo Grande Chamber of Commerce that Dick Blankenburg was chosen as Arroyo Grande Citizen of the Year. Former Citizen of the Year Khatchik "Katcho" Achadjian was quoted as saying, "I am very honored to have Dick Blankenburg chosen as Citizen of the Year. He has been very involved in Special Olympics, which is his pride and joy. … Son Rick benefits from his father in many ways. His father is his coach and taxi driver. It is very easy to be a father, but it takes a special person to be a daddy, and that is Dick." Other accomplishments cited for the award included fundraising for the United Way and the YMCA, and being a member of the Kiwanis Club of Greater Pismo Beach since 1959.
Upon acceptance of the award, Blankenburg said, "Ever since we came here in 1959, we have worked for the community. The chamber of commerce wasn't formed at the time, but another Blankenburg helped during those first years. That was my father, Richard E. "R.E" Blankenburg, who served as one of the chamber's first presidents in 1964. … I'd like to accept this award on behalf of myself, my family and the newspaper because the newspaper is also dedicated to the betterment of the community."
In 1985, the Blankenburg Family was chosen by the Kiwanis Club of Greater Pismo Beach as Family of the Year. The article said that family members Dick, wife Maxine, daughters Linda and Cindy, and son Rick typify the best of traditional American family values, according to member Don Talley. Dick Blankenburg said he was proud of his accomplishments, but his number one priority was his family. "It's all about establishing priorities," he said. "You have to have a commitment to your children. … Success is not earning all the money you can. I think it is important to give back to the community and to your kids."
Through the years, Blankenburg's service to community was recognized by the Pismo Beach Chamber of Commerce, Grover Beach Chamber of Commerce, and Nipomo Chamber of Commerce. In 2019, Dick and Rick Blankenburg were honored with a proclamation by Arroyo Grande Mayor Caren Ray Russom for their 50 years of involvement in Special Olympics. Law enforcement officers who are big supporters of Special Olympics through the Law Enforcement Torch Run were on hand for the celebration at City Council chambers, as were members of the Kiwanis Club of Greater Pismo Beach.
Blankenburg also served to better the journalism profession. He was president of the California Newspaper Publishers Association and a representative to the National Newspaper Publishers Association in the 1990s.
Both Dick and Maxine set examples for their children through volunteering with Arroyo Grande Valley Harvest Festival, Camp Fire, Boy Scouts, Special Olympics, Kiwanis, and more. All three of the children worked at the newspaper during the 39 years the family owned the business. All of them continue to give back to the community, and the siblings are instilling the values of community service to their own children. The Blankenburg family legacy continues through many of the family's favorite organizations.
Additionally, the legacy of the Blankenburg family can be seen in such structures as the Clark Center and the Dana Adobe. Dick and family were among the donors and volunteers that raised money to see the Clark Center come to fruition. It is on the campus of Arroyo Grande High School, and the Blankenburg family along with other like-minded people wanted to bring the arts closer to high schoolers and the community in general. It has been a source of pride to see the students and community members enjoying the center, and for Dick to see his own grandson perform at the center as part of Nipomo High School band performances.
The Dana Adobe is another cultural icon in this area in which Blankenburg had a hand in preserving. The structure was in disrepair during the 1970s, and he and other community members set out to save the structure from becoming rubble. Then, when the Dana Adobe Nipomo Amigos organization formed, Dick made a major donation in the name of his wife Maxine and their family.
Dick and Maxine retired from the newspaper business in 1998 when they sold the newspaper to the owners of the Santa Maria Times. The Five Cities T-P-R printed its last issue in 2016.
Dick Blankenburg was born July 24, 1936 in Medford, OR. He is survived by his children: Richard E. "Rick" Blankenburg; Cindy Blankenburg and husband Gene Garcia; Linda Blankenburg Fossum and husband Tim Fossum; grandchildren Kylie, Dirck, Kaytlin, Erika, and Alyssa; great-grandchildren Eli, Luka, and Pharaoh; and nieces and nephews David, Debbie, Denise, Warren, Jill, Eric, and Karl.
He was preceded in death by his wife Maxine Blankenburg in 2006; parents Richard E. "R.E." and Lois Blankenburg; siblings LanaKay Sims, Kent Blankenburg, and Karen Nyberg.
Arrangements are under the direction of Marshall-Spoo Funeral Home in Grover Beach. Graveside service at Arroyo Grande Cemetery is set for 1 p.m. Wednesday, February 15. The family requests that, in lieu of flowers, donations be made to one of Dick's favorite charities: Special Olympics, Kiwanis, Boy Scouts, or the Arroyo Grande Harvest Festival.