The Harold J. Miossi Charitable Trust has announced a $1 million contribution in support of San Luis Obispo Repertory Theatre's capital campaign, "A New Stage," to build a new venue for live theatre in downtown San Luis Obispo.
The Miossi gift marks a significant milestone, pushing SLO REP's fundraising total to $11 million, more than two-thirds of its overall $15.3 million goal.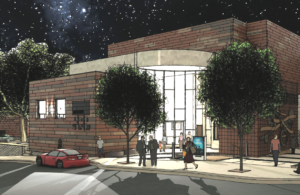 In appreciation of this major gift, the new SLO REP grand lobby will be named in honor of the late Harold J. Miossi, a San Luis Obispo rancher, ardent environmentalist, and supporter of the arts. Since it was established in 2006, the Miossi Charitable Trust has provided philanthropic support to a variety of nonprofit causes, including support for the arts.
"We are honored, humbled and deeply grateful for this generous gift," SLO REP Board President Pam Nichter said. "The Miossi Trust is well known for its strategic arts philanthropy, having given similar gifts to support the performing arts centers on the Cuesta College and Cal Poly campuses. We are proud to be included in that league of first-class venues, and we are delighted to honor Mr. Miossi's extraordinary legacy."
Howard Carroll, trustee for the Miossi Trust, says Miossi was a genuine philanthropic visionary. "In setting up this trust before his death in 2006, it was Harold's intention to support a variety of causes and organizations that enrich our region's quality of life," Carroll said. "Harold would have enthusiastically supported SLO REP in part because it has earned such substantial support from the City of San Luis Obispo, as well as support from a variety of private sources."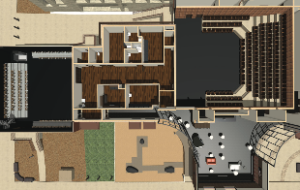 Miossi would have supported SLO REP's ambitious vision to become not only a destination regional theatre, but also an important educational and cultural institution, Carroll said. The gift is intended to help ensure the successful completion of the capital campaign.
The new venue will be built on land provided by the City of San Luis Obispo, adjacent to its planned new parking structure at Monterey and Nipomo streets. It will be located across the street from the SLO Museum of Art and the Children's Museum, and will be near the History Center of SLO County in the former Carnegie library building.
Groundbreaking for the parking structure is slated for later in 2023, with construction of the new theatre to follow. It is scheduled to open in January 2027.
Designed by local architect Bryce Engstrom, the theatre is planned as a single story of nearly 12,000 square feet, and will feature a 215-seat main stage for fully-staged musicals, dramas, and comedies, and also will include a 100-seat black box theatre for staged readings, workshopping of new plays, and other live entertainment. The new SLO REP is expected to draw 50,000 patrons downtown each year.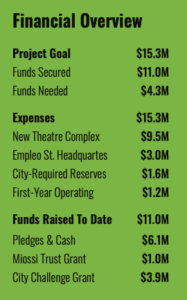 Managing Artistic Director Kevin Harris says the Miossi gift caps off a 12-month fundraising period that has raised more than $5.5 million, including a $3.9 million challenge grant from the City of San Luis Obispo. "Thanks to the donors who brought us past the $10 million mark, we were able to purchase a new headquarters at 3533 Empleo St, which has allowed us in less than a year to double our enrollment of young people in our educational program, the Academy of Creative Theatre," Harris said. "By early next year, we expect to be able to serve 1,000 students annually. The Empleo building also gives us badly needed space for rehearsals as well as set construction."
Harris says SLO REP plans to greatly expand its offerings, operating 45 weeks out of every year, producing 22 shows with more than 300 performances.
"SLO REP's state-of-the-art performing arts facility is a foundational part of the community's vision for a downtown cultural arts district," according to SLO Mayor Erica A. Stewart.
SLO REP is SLO County's only nonprofit, professional regional theatre company featuring a year-round season of live theatre in its downtown San Luis Obispo venue. Established in 1947 as the all-volunteer SLO Little Theatre, SLO REP now strengthens theatre's cultural influence and enriches the Central Coast by producing professional theatre, nurturing artists, and providing theatre education for children and adults.
The Harold J. Miossi Charitable Trust provides philanthropic support to organizations seeking to improve the quality of life for residents of the City of San Luis Obispo and surrounding areas. The Trust focuses on six key areas: animal-related, education, environment, the Catholic Church, fine arts, and youth development. Ninety-nine percent of the funds that have been disbursed by the Trust have been invested in the City of San Luis Obispo and surrounding areas, where Harold J. Miossi made his lifetime home.