Photos by Rylo Media Design, Ryan C. Loyd
This production is onstage from December 3 to December 18, 2022.
---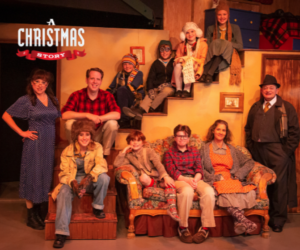 So . . . You'd think you would tire of seeing A Christmas Story (the play or the film) every holiday season. But like many festive traditions, you just keep coming back for more. Unlike the 1983 film version—a classic that will remain forever unchanged notwithstanding the updated A Christmas Story Christmas film that debuted this year—the stage version can obviously have its ups and downs based on many factors: direction, casting, technical details.
It's safe to say that the production now bedecking the SLO REP stage in San Luis Obispo hits high notes all around. This is not to say that many of the versions that have come before in the company's history haven't reached heights of their own: case in point is the 2019 version, which Kevin Harris gracefully directed with attention to all details, then as well as now.
Harris also has a fine set of actors to work with this go-round, and he shows his adroit hand at casting and working with children as well as adults. Ben Abbott as the adult Ralph and Jude Biggers as the nine-year-old Ralphie are cleverly cast and both easily tug at your heartstrings in all the right places (the way they mimic each other, as Abbot narrates and Biggers performs, is delightful to watch).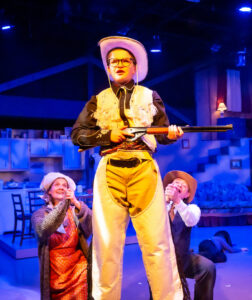 Indeed, the kids in the cast almost steal the show—even the "tough guy" played by Aubrey O'Leary, who is having way too much fun as the bully Scut Farkus (what a name!). Logan Raftery is very funny as Ralphie's bundled-up brother Randy, and Claire Guyader, Mathias Brown, Pfeiffer Francis, and Vivienne Rajcevic generate much laughter at their antics in school and in comic scenes like the iconic tongue-on-lamppost fiasco.
The adults are clearly having some fun, too. Irene Dahmen, making her debut at SLO REP as Miss Shields, can cackle with the best of them, as demonstrated in one of the many vignettes that Ralphie dreams up to illustrate his childhood frustrations and his dreams of grandeur. These delightful mini-stories, enhanced with witty lighting and sound effects, are a highlight of the show and reveal a young boy's keen imagination and obsession with his perfect Christmas present: a Red Ryder Range 200 Shot BB gun with . . . well, lots of stuff on it.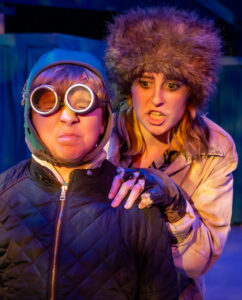 Speaking of highlights, Mike Mesker and Alicia Klein are just about perfect as Ralphie's parents. Mesker as the Old Man is all bluster and grandiloquence in one scene, then doting and uplifting the next—an impeccable performance. And while Klein's role is less mercurial—the steady, everyone-can-count-on mom—she plays the backbone of Ralphie's world with grace and charm as she preps meals, wrestles Randy into his snow gear, and handles the fallout of the Old Man's tumultuous adventures (which, as everyone surely knows, includes battles with a fussy furnace, despicable dogs, and language inspired by lug nuts).
And if you don't know about the "major award," which is enshrined forever in the advertising for both the play and the movie, let's just say you need to see it unveiled to appreciate this piece of art with which most—but not all!—the family members are enamored.
In addition to dynamic casting and directing, the creative set, lighting, and sound design (thanks to Harris and David Linfield) make this a Christmas story to visit (or re-visit) this year.
From Abbott's introductory narration, "Christmas is upon us . . .," he gathers the audience to him in a thoroughly enjoyable way, creating the human connection that Harris says in his director's message he aims for, and reminding us that magic and lights and snow aren't necessarily what the holiday season is all about. It's Ralph's memories of childhood and family that are on display for us to enjoy as much as Ralphie wants to enjoy his dream Christmas present, which as well all know is destined to shoot his eye out.