Photos by Barry Goyette
This production is onstage December 9-11, 2022.
---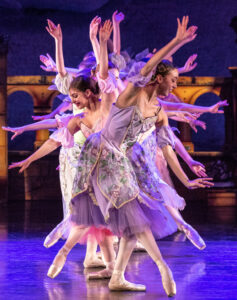 So . . . Several words come to mind after spending two enchanting hours in the Performing Arts Center San Luis Obispo enjoying a sumptuous entertainment that was not trucked in from the big city, but generated wholeheartedly and quite naturally from children and adults who call the Central Coast home.
Amazing. Awesome. Wonderful. But not unbelievable. A wealth of local talent obviously exists, but it takes visionaries like Civic Ballet's Drew Silvaggio (with, it can be assumed, Lorilee proudly watching over his shoulder) and OperaSLO's Brian Asher Alhadeff to envision, organize, and bring to the stage a live, multi-set production involving scores of dancers, singers, musicians, and technical crew members. Thanks to all of these creative individuals, the Central Coast was treated to four spectacular performances of The Nutcracker the weekend of December 9-11.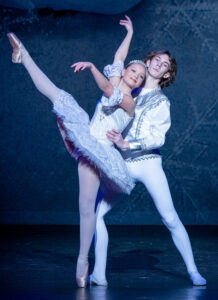 Home-grown talent was certainly on display, from the set pieces (many of them built years ago by Joe Silvaggio and still in use), to a very inventive props crew, to some tiny but mighty supporting cast dancers, to members of the OperaSLO Grand Orchestra, to vocalists from Laguna Middle School, Los Osos Middle School, and Morro Bay and SLO High schools.
It's not possible to list the names of all of the people who worked and volunteered to make this production so appealing—most are listed in the official program, including an 18-member costume crew, an 18-member stage crew, an eight-member makeup crew, and 16 chaperones, all in addition to the performers. Not everyone who contributed is named, however, as many parents and friends and neighbors surely had a hand in bringing this complicated, mesmerizing piece to life.
The pacing of the performance never faltered, with the choreography moving the dancers from each vignette to the next with a sprightly confidence. The orchestra and chorus brought Tchaikovsky's familiar score to sparkling life, heralding at first the joyful anticipation of children delighted with the spirit of Christmas, then the mayhem of toy soldiers and dolls brought to life for the amusement of all.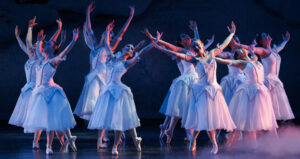 Amid a myriad of special effects and adept animations (among them a train driven by a steam engine that delivers lumps of coal and little lions, a Christmas tree that grows taller and taller and taller, and piles of beautifully-wrapped presents that open to reveal among other toys the title character) the action moves from the magical to the fantastic.
The Land of Sweets materializes out of a rich fog, as do many elegantly-costumed figures: the Sugar Plum Fairy, the Rose Queen, the Spanish Queen, and the Chef. The arrival of Mother Ginger and her Gingersnaps causes quite a stir. In the end the company comes together to take a joyous, triumphant, and well-earned bow.
The synergy produced by Civic Ballet of SLO, OperaSLO, local schools, and many volunteers in this grand production sets a great example, and above all showcases talent of which the entire community can be proud.