Photos by Terry Heinlein
You may have driven by it. You may have walked by it. But you likely didn't notice one of the rare office buildings designed by Frank Lloyd Wright right here in San Luis Obispo. At the northwest corner of Santa Rosa and Pacific streets (1106 Pacific Street) is a one-story brick building, completed in 1956, originally housing Dr. Karl Kundert's Medical Clinic.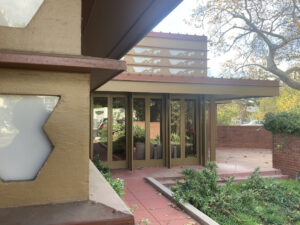 Kundert, an ophthalmologist from Wisconsin who had relocated to the Central Coast, decided to build an office in 1953. An admirer of Wright's architecture, which was prominent in the Midwest, he contacted the architect to provide the design. Wright initially showed no interest, but Kundert was persistent to the point of mailing both drawings and photos that showed the selected site's creekside lot and sycamore trees. The natural conditions of the site ultimately interested Wright, and he agreed to design what would become one of the few commercial buildings ever to be completed by the famous architect.
Letters and documents between Kundert (in San Luis Obispo) and Wright (in Arizona and Wisconsin), along with a few meetings in San Francisco, yielded a design that reflected Wright's attitude toward city buildings and one of his then-current house designs. Earlier in the 1930s and '40s, Wright developed a design for a home, called the Usonian House, to meet the needs of the American middle-class family. Houses based on this design were single story, strongly horizontal, and possessed a near flat roof, solid masonry walls toward public walkways, and open glazed views to the interior natural settings. Made of a Wright-designed concrete block, they were planned for locations throughout the United States on natural, often wooded, lots.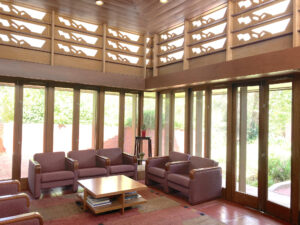 The Kundert medical office mirrored many of Wright's Usonian design characteristics. The architect did not like urban life, and often designed city buildings to be closed off from their motor and foot traffic surroundings. He was not interested in "fitting in" with the existing architectural context, especially not that of late 19th or early 20th century Victorian bungalows, common to the area surrounding Kundert's site.
Wright revised the residential layout of the Usonian plan, with its kitchen, living areas, baths and bedrooms, into a medical office use with reception, waiting areas, and examining rooms.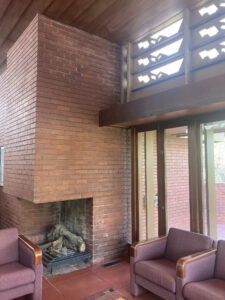 The Kundert building turns its back to Santa Rosa Street and slightly less so to Pacific Street, where a projecting brick wall with a street number panel and a few steps lead to a covered entry. The plan is L-shaped with the short leg of the L along Santa Rosa and a perpendicular longer solid wall on Pacific. Both walls, just below the roof edge, have continuous upper geometric wood cutouts finished with translucent white plexiglass to allow light into the rooms behind the street walls. In the interior, behind these walls, are the private examination and medical rooms that are accessed by windowed hallways looking out onto a lush green and flowered interior landscape of the site. At the juncture of the two wings is a higher, light-filled space that serves as the waiting room, with tall, wood-framed glass walls open to the creek view and the plantings enclosed by the long wings. The room includes a fireplace and built-in seating of wood and thick cushions that create a beautiful, quiet space that would calm any anxious patient.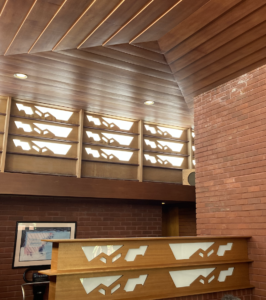 Wright showed little interest in overseeing the work, and delegated the construction oversight to an associate—his protégé Aaron Green. The project, like many of Wright's buildings, ignored construction costs and underwent changes as it developed, including plan changes drawn by a student architect hired by Kundert.
Wright was known to be inflexible when alterations to his designs were suggested. This trait emerged in the process of his design for Kundert. Disagreements between Wright, Kundert, and a local contractor eventually eliminated the design's costly block, and the horizontal brick seen in the building today was substituted. Wright, unhappy with the changes to his original design, never visited the completed project and never recognized it as one of his works.
After Kundert closed his practice, the building was purchased by a cardiologist, Dr. Kenneth Tway, who deserves much credit for maintaining what is one of the most pleasant medical offices that I have ever experienced. Although the building remains a private office and is not open to the public, the next time you're near Santa Rosa and Pacific in San Luis Obispo, be sure to take a look at what is a Central Coast mid-century modern work of art.