Experience this production from December 1 to December 11, 2022.
---
So . . . if you haven't read Mark Haddon's 2003 mystery, The Curious Incident of the Dog in the Night-Time, you should experience Simon Stephens' Tony Award-winning play based on the book, now being performed in the experimental theatre at the Harold J. Miossi Cultural and Performing Arts Center on Cuesta College's SLO campus. If you have already experienced the novel (recipient of several "bests" itself) you will absolutely enjoy encountering it again as superbly staged by the Cuesta College theatre arts department.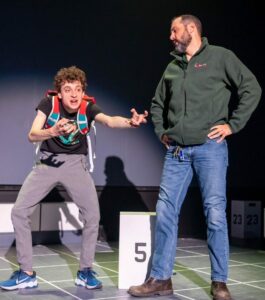 Fine performances, superior direction, inspired staging, meticulous timing . . . all wrapped up in a tightly-wound puzzle that most of the play's characters dismiss out of hand. But there's one character who can't let this "curious incident" go. It seems a simple premise, but it takes the impulsive, enterprising, courageous, and often vexatious Christopher Boone (Dylan Hahn in an exceptional performance) to unravel something that absolutely no one else wants to untangle (watch out for the metaphors along the way). The unraveling, of course, reveals much more than the inciting incident, and therein lies the wonderful power of this play.
And powerful it is, engaging and challenging, asking the audience to travel with Christopher as his parents, his teachers, the police, and others attempt to understand or impede his curiosity. Harlow Winterfire and Jordan Michel as Christopher's parents are stand-outs among a very talented cast.
Each member of the company is uniformly tuned to the physical and psychological demands of the action during the two-and-a-half-hour production, a feat few directors achieve with such consistency. When you include the technical demands of complex lighting and multiple projections in this black box theatre, director bree valle and her team have assembled a terrific show. It's a highlight of valle's work at Cuesta, and a fitting moment for her to take a break (or a "stepping away of sorts" as she puts it) in future to allow other directors and guest artists to fill in.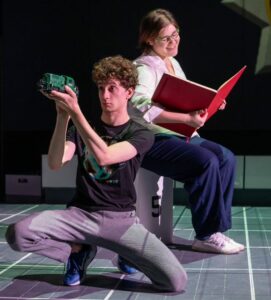 The technical demands of the production are many, but nary a one disrupts the action, and indeed they all seem necessary to help the audience explore the inward and outward journeys on which Christopher takes us. Kudos to technical director Richard Jackson, lighting designer Ryan Flores, projection designer Alex Woolum and sound designer Sloe Slawinski. Jack Bernhardt is an excellent follow spot operator among an outstanding lighting crew, and prop master Dawson Blondie and dog prop creator Brian Williams have taken good care to provide appropriate and convincing accoutrements. If you think these jobs are easy, here are just a few of the items that are listed in the "special thanks" part of the program: train tracks, a clean tooth, a puppy, fancy hats, and a cop cloak. The list goes on.
The set is a marvelous combination of chalk drawings on the floor, lighted cubes, colorful and animated projections, and ingenious boxes. The interlacing of set, lighting, sound, and dialogue among multiple actors is a wonder of timing that needs to be experienced to be appreciated.
While the technical aspects of the production are wondrous, so too are the emotional connections that are forged, particularly as part of Christopher's relationship with his mother and his father, but also between Christopher and the audience. Hahn's balancing act between his parents and, indeed, other acts requiring some amazing dexterity on his part make for the kind of visceral interaction that only live theatre can provide.
The Curious Incident of the Dog in the Night-Time is a must-see. Find the time in between your holiday parties and gift exchanges to give yourself a gift (general admission tickets are only $20). As of this writing, all the remaining shows are sold out except Saturday evening, December 10.