This production is onstage November 25-December 18, 2022.
---
So . . . if you somehow find yourself missing that good ol' Christmas cheer this December, or you've had enough already of the kids home from school for the holiday break, or even if you just want a few guaranteed belly laughs and plenty of smiles, the answer can be found in a swanky-pink flamingo-decked Palm Beach hotel suite circa 1942. But where can you find this magical getaway? Morro Bay, of course!
That's Morro Bay by way of By the Sea Productions, which is offering up a tasty confection called Suite Surrender, a play by Michael McKeever that has been whipped into shape by director Kelli M. Poward and a cast of nine deliciously flamboyant actors—characters, all.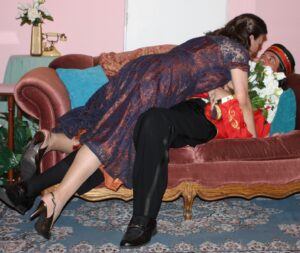 Most comedies are dependent on good timing and good staging, and this one has both. It's the kind of farce with doors opening and closing at just the right time, with former lovers bumping into each other in unexpected situations, with old rivals looking to out-do each other to the chagrin of their various hangers-on, all accompanied by knowing laughter from the audience.
Where to start? The opening music introduces us nicely to the era—think Frank Sinatra and Jimmy Durante, giving us an appropriate introduction to what is to come. The play opens with banter between the two Mutt-and-Jeff bellhops Frances (an excellent Gregory DeMartini) and Otis (Samvel Gottlieb, who throws words—and other things—around with the best of them).
They are interrupted by the officious hotel manager Bernard (David Rousseve, who takes officiousness to new heights, even when uttering a line as laden with doom as "Welcome to Hell"). His boss, the utterly clueless Mrs. Osgood (Janice Peters, who could offer courses in how to play oblivious), arrives to add more fuel to the slowly-building fire, setting up the crux of this particular comedy's main complication: the imminent arrival of two dueling divas who can't stand the sight of each other.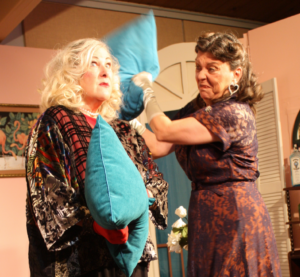 But thanks to the lively plot, the inevitable meeting must happen sooner or later, with much merry folderol offered up by a snoopy gravelly-voiced Hedda Hopper wannabe out to get a scoop (a well-cast Heather Babcock) and the divas' two "servants" (Molly Pendley and Sarah Ruth Smith, both ably demonstrating the importance of comic timing to this kind of fare). Smith and DeMartini play reunited lovers whose physical comedy involving smooching-then-smacking is a must-see.
The divas don't disappoint. Kate Kravets as Claudia McFadden and Laura Richie as Athena Sinclair are perfectly cast with glittering jewelry and glossy gloves in melodramatic roles that require, well, "acting" with an exclamation point. Both have the ability to utter the rudest insult with the widest smile plastered on their faces, all to the amusement of the audience. Their ultimate showdown is surprisingly satisfactory (to everyone in on the joke) and ends on a literal high note (both actresses can sing for sure).
Well-chosen props and well-styled costuming is a hallmark of By the Sea Productions; here both are credited to Peters and the cast, and attention to such details adds an engaging spice to the proceedings. Cases in point: Mrs. Osgood's red, white, and blue outfit; piles of luggage and vases full of white roses that miraculously survive multiple appearances and disappearances; and a lap dog named Mr. Boodles (who even though not a breathing being, still plays a major role in the revolving door of people and things coming and going throughout the play's whirlwind 90-minutes-plus-intermission).
Suite Surrender is a frothy delight from start to finish. In the tradition of true community theatre, the company appears to be enjoying the production as much as the audience—which goes a long way to creating a successful farce, and for which Poward at the helm deserves applause.