Experience this exhibit from November 19, 2022 to March 5, 2023. 
---
After almost three years dealing with the pandemic it's refreshing to get back out into society and enjoy all the things that we used to do.
What could be more appropriate than visiting a new exhibition at the San Luis Obispo Museum of Art entitled "HOME/WORK"?
"HOME/WORK" provides a wide range of artistic disciplines, from oil or acrylic on canvas to sculpture, photography, collage, mixed media, and fiber, as well as three-dimensional art. Fourteen artists were selected to display their work with some being newly emerging artists, while others are world-renowned. Each artist was asked to present their concept of blending work and home, especially since so many of us have had to combine both of these aspects of our lives during COVID.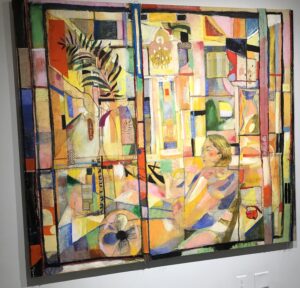 Los Angeles-based artist Kate Barbee details the mind-numbing myriad of issues we deal with on a daily basis, both work- and leisure-related, in her large colorful explorations on canvas (see photo at left).
Zalika Azim provides art with a narrative of a struggling family attempting to escape homelessness for a new city with the hope of finally having the security and comfort of a home.
Judy Chicago's sculpture of a fisted arm provides recognition of women's determination to escape the the label "housewife" and challenge themselves to be more.
Greg Scott presents a series of photographs superimposed over water colors to detail the attitudes at the beginning of the pandemic and how over time the monotony of lockdown and fear of an unknown future had an effect on us all.
Chiffon Thomas created multiple sewn and suspended miniature structures using salvaged leather book covers from churches in her community and showing the vulnerability and power required to maintain the identity of her culture.
While each artist represented what home and work signify to them on a personal level, this exhibition ultimately asks the viewer "What does home mean to you?"
Viewing these installations brought me a new understanding of other people's beliefs, emotions, and cultural backgrounds while expanding my own concept of what "home" and "work" mean to me as a wife, mother, and artist. To that end, SLOMA has succeeded in creating an interesting body of work that brings artists from outside of our community to share how each of us as humans interact with each other and express ourselves.