Experience this production from November 17 to December 31, 2022.
---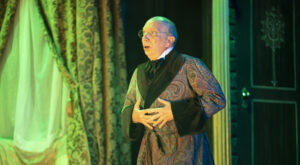 So . . . there's no better way to get into the holiday spirit on the Central Coast than paying a visit to The Great American Melodrama family, whose members this year have gone all-out to welcome you, entertain you, and provide a virtual feast of fun festivities in the form of their annual Holiday Extravaganza.
From the opening sing-along through the three separate-but-all-very-merry acts on the playbill, this holiday spread serves up enough variety of victuals and juicy tidbits of good cheer to tickle everyone's taste buds. Spoiler alert: some of the courses, happily familiar from past extravaganzas, will make you laugh out loud ("Reindeer Rap," anyone?). Some will make you smile (Billy Breed was born to play Scrooge, and no other actor can declare "I'm a martyr to my own generosity" like he can). And some will surprise your senses (whoever created the Oceano Waterglass Orchestra deserves a heaping plate of praise).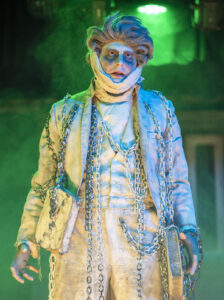 This smorgasbord of Christmas treats has been created by many talented hands. Michael Brusasco directs the opening act, the lean and haunting "A Christmas Carol," by keeping the focus on Scrooge's journey from hum-bug to redemption. The stage business along the way—thunder, smoke, eerie lighting, lively dancing, and more—plus the rich, detailed costuming of Marley and the three Christmas ghosts, all build up luxuriantly and loudly to the soft, tiny voice of Tiny Tim uttering a poignant "God bless us every one." Cosette Machamer and Jackson Hicks alternate playing the Cratchit child, doomed but for Scrooge's ultimate transformation.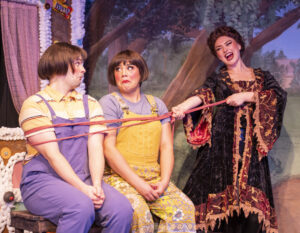 The second course—er, act—features a chaotic, operatic, fairytale mash-up of Hansel and Gretel, Little Red Riding Hood, and a very modern concern about fitness and sweets that launches itself into Big Bad Wolf territory from a modern-day Grimm's Gym. With a witch named Sara Lee (an awesome Meggie Siegrist) and B.B. Wolf (a terrific Mike Fiore) after everyone, it's a wonder the company has any time to sing all the songs that, naturally, focus on gastronomic gratification. You seldom hear tunes tallying the joys of Krispy Kremes, McD's French fries, and chocolate in all its forms sung with such gusto.
Director Karin Hendricks and cast members Siegrist, Fiore, Michael Wells, Sydni Abenido, Natalie Mara, Antwon Mason, and Rachel Tietz deserve extra credit for increased visits to the Melodrama snack bar during the second intermission.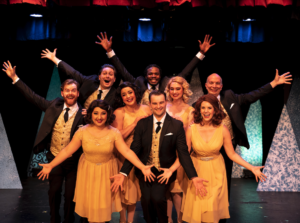 The two-and-a-half-hour evening comes to a close with a sweet dessert: a vaudeville review directed and choreographed by Eric Hoit with seemingly one goal in mind: to send you into the cold winter night with a warm, bright, cheerful reminder that the holidays are a time for fun and family and laughter—with stories, singing, and dancing (with a side of tap-dancing) recommended to round out your holiday menu. The set—a lovely, modern array of lighted trees—provides an elegant backdrop to a series of entertainments from a stylish cast in elegant evening wear. But we're at the Melodrama, so such elegance always yields to revelry and merry-making. The cast is perfect in reminding us of the many expressions of "present face"—what you look like when a gift isn't exactly what you expect, or want. And Toby Tropper deserves special mention for his herculean feat singing the words to "A Visit from St. Nicholas" (AKA "'Twas the Night Before Christmas") to the tune of Mary Poppins' "Supercalifragilisticexpialidocious."
Well-earned shout-outs for mounting three productions in one go to costume designer Renee Van Niel, scenic designer Ian Peggs, lighting designer Cody Soper, sound designer Parker Katona, stage manager Kristal Georgopoulos, and last but not in any way least, musical director and arranger Paul Rigano (who keeps things moving along nicely).
If you don't have your tickets to this year's Holiday Extravaganza yet, you need to make reservations—for the whole family—now. Better yet, round up your friends and co-workers to go with you, too. This is a show that will make everyone feel like family.