The view from Valencia Peak
The mountains are calling, and I must go." ~ John Muir
The mountains have been calling Los Osos poet Bob Kamm for as long as he can remember. Nine separate hiking trips to Peru and multiple treks up San Luis Mountain over the years have left Bob with what he calls, "the love of altitude in my blood."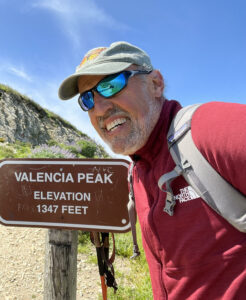 Which helps explain his ongoing personal goal of reaching the top of Valencia Peak in Montaña de Oro State Park 1,000 times (that's not a typo) before he turns 80. At 76, with number 890 just recently notched, Bob plans to achieve his goal sometime during the second half of 2024, sticking to a rigid twice-weekly hiking regimen.
Those of us who have spent time on the trail appreciate Bob's endurance. Valencia Peak, at 1,347 feet, is one of the tallest in the park and is considered to be intermediate in terms of difficulty. There are sections with gentle switchbacks, but the last third features several steep, rocky slopes.
Bob once reached the summit in a personal-best 39 minutes, but typically he takes a leisurely hour-and-a half each way. He stops to chat with fellow hikers, enjoy the view, study fossils he finds, and dodge the rattlesnakes that populate the trail—he once counted 17 rattlers over a period of time.
The inspiration for the journey started years ago when Bob encountered an 83-year-old hiker on the Valencia Peak Trail, a man who claimed to be a direct descendant of Daniel Boone. He had started hiking when he retired and that was his 462nd trip to the summit.
Bob remembered the conversation when he first moved to Los Osos in 2012 at the age of 65. He reasoned that 1,000 trips by the age of 80 was doable. "It wasn't about beating his number," Bob says. "He was doing his own thing that fit into his life at the time. The 1,000 mark seemed like a fun goal to have, to keep me hiking, even on days when I didn't feel like it."
Friends join him on the trail occasionally, but Bob prefers to hike solo. "I prefer to be alone most of the time," Bob says. "It's like a walking meditation. It gives me the opportunity to enter this blissful state where so much insight and creativity are percolating."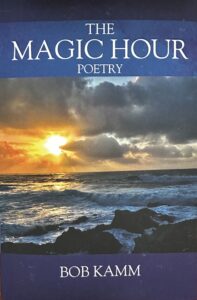 So it's not surprising when Bob shares that he often returns home with a "pocketful of scribbled verses."
Those verses resulted in four published collections of poetry so far: Lyric Heart, Love Over 60, Gazing, and The Magic Hour. Bob believes Valencia Peak regularly inspires his poetry.
"It's not unusual for me to come down the mountain with something almost completely formed in my mind. Sometimes it's just a phrase that comes into my head. A few weeks ago, I saw an eagle and it led to a short poem."
Bob describes his poetry as having one foot firmly planted in the natural world. "The combination of aging, how it changes your sense of life, and the beauties I encounter while hiking make me want to capture what I'm feeling, celebrate it, and share it. On my mountain, I am in love with living, every second."
The obvious question is how Bob plans to celebrate number 1,000. A few friends have apparently expressed interest in joining him. Most importantly, Bob wants his son Ben to come down from northern California to participate. It's only fitting since Ben was there for the very first hike years ago.
But Bob plans to continue his treks up Valencia Peak, and hasn't ruled out going for 1,500. "I'm happy to say I've had a few slips, but never a bad fall. It's a running joke with some of my old friends from the car business that I am OEM—Original Equipment from the Manufacturer."
Meanwhile, Bob is assembling a new collection of poems, and expects Walking Towards Sunset to be published sometime in 2024. "The title is obviously metaphoric for being in the latter part of my life," he says. "There's no escaping the reality that we will each come to an end. Being on that mountain every week keeps me in touch with my own inner transformations as I step closer and closer to writing my last line, taking my last step, resting in loving embrace for the last time."