The artist's children, accompanied by the artist and representatives of the City and SLOMA, cut the ribbon introducing "David" to the community.
---
On April 15, the San Luis Obispo Museum of Art in partnership with the City of San Luis Obispo held a ribbon-cutting to introduce "David," a sculpture by Adam Parker Smith, to the community.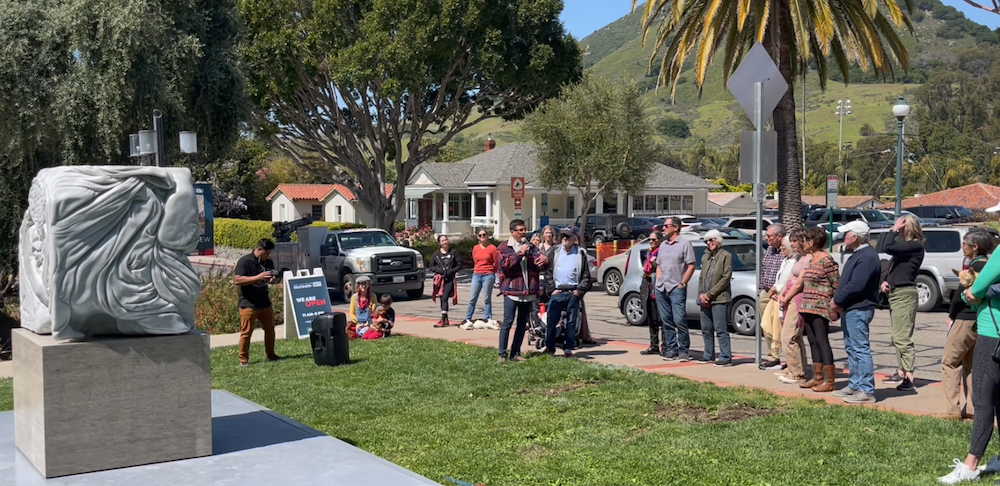 Parker Smith's sculpture, on the museum's lawn in downtown San Luis Obispo adjacent to Mission Plaza, features the familiar subject of Gian Lorenzo Bernini's 17th century sculpture of David, but here compressed into a cube the size of one cubic meter. Parker Smith is known for creating works that are often irreverent and funny, and with this work, he plays with the iconic form of classical sculpture, giving it a modern twist.

Parker Smith, who lives and works in Brooklyn, New York, works across various mediums, including sculpture, video, assemblage, and collage, and is known for his contemporary takes on ancient forms.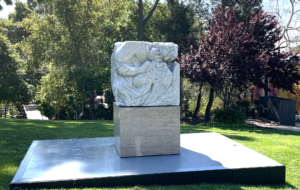 "David" comes out of a recent series called "Crush" where the artist turned iconic classical sculptures on their head. Working with a team of master carvers, Parker Smith recreated the sculpture of David using a 3D modeling program, and then compressed it into a compact cube, carved out of a Carrara marble block. The resulting work is at once familiar and distinctly unexpected.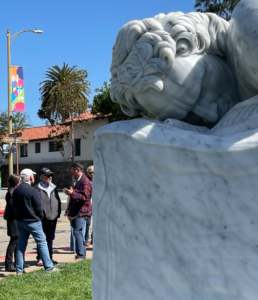 According to the museum, his work also upends the feelings of adoration and awe that many of these classical works inspire. With "David," the artist takes an idealized, perfectly proportioned, figure, and collapses him, interrupting the heroic nature of the form, and in consequence changing the viewer's relationship with the sculpture, opening space for a new dialogue.
SLO City Council Member Andy Pease, addressing the two dozen people who turned out for the event, called the city's public art program "robust."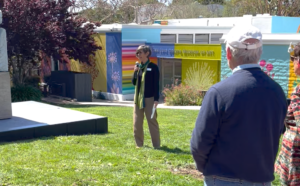 "Public art creates a sense of pride for our community," Pease said. "Not only does it bring vibrancy to our public spaces, but it reflects who we are as a community and what our values are."
Pease said the program is thriving "because this community continually makes the investment—we know that it takes both funding and attention." She pointed to the more than 70 pieces "literally woven throughout our city in sculpture, mosaics, murals, integrated into buildings, in stained glass, we have it on our utility boxes, our park benches, even in the rails of our bridges."
"David" will be in place until April 2024.