Artist Bob Nichols onsite at his mural's new location: the SLO Botanical Garden.
---
On April 14, the San Luis Obispo Botanical Garden unveiled "Nature Inspires," a ceramic mural created by artist Bob Nichols in 1987 as a public art installation for the San Luis Obispo Art Center near downtown SLO's Mission Plaza.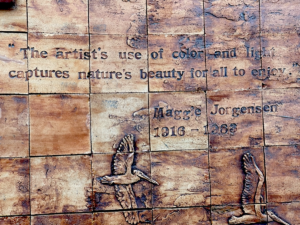 When the San Luis Obispo Art Museum (now occupying the space of the former Art Center) deaccessioned the piece last year, the Botanical Garden acquired it with the help of the artist and with the support of the Jorgensen family, who donated the piece originally to the Art Center to commemorate their mother, painter and community arts advocate Maggie Jorgensen.
The dedication plaque, unveiled with the finished mural, reads: "Nature Inspires" by Bob Nichols given in memory of Maggie Jorgensen 1918-1983 by her children Jerren Jorgensen, Karen Kile, Marti Lindholm.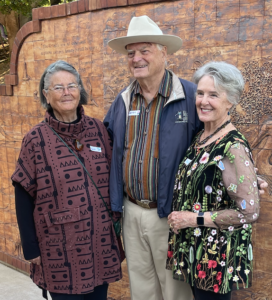 Karen Kile, speaking for the Jorgensen family, expressed their hope that the mural will continue to inspire others who visit it.
"We are all so fortunate that the artist was able to repurpose his ceramic masterpiece to fit in so beautifully here," Kile said. "Our mother would be pleased. It is a tribute to her love of plein air painting, passion for the well-planned garden, and her civic and cultural mindfulness.
"With gratitude to all who made this possible, we rededicate this mural to its new home at the San Luis Obispo Botanical Garden. May it continue to bring joy and inspiration to this community and its visitors."
Read more about "Nature Inspires" here.