The journey from Minnesota to the Central Coast for Mike Toppe is a story long in the making.
Toppe and his partner Dan, with their miniature dachshund Earl, moved to Morro Bay three years ago. "We made the move and never looked back," Toppe says. "We have a partial view of Morro Rock and the ocean. Sometimes I have to pinch myself."
Toppe loves giving back to his community and has volunteered for many groups and organizations over the years. He finds it important to donate his time and energy supporting political candidates that align with his passions and interests. He considers himself an environmentalist, while also assisting organizations that support women's rights, senior citizen advocacy, and community efforts such as Art in the Park in Morro Bay and Morro Bay Beautiful roadside clean-up.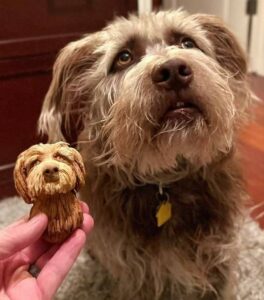 In 2017, inspired by his love of raising awareness and money for various causes, Toppe discovered a new interest. "I came up with the idea of crafting clay miniatures of my dog Earl and began selling them—mostly online—to raise funds for various groups and events," he says. "It was a huge success and began to catch on. Earl is my muse and source of many laughs and he is an excellent nap buddy. Earl is very charismatic so I get spoiled whenever I take him out because people tend to fawn over him."
In 2020, using photos of pets or favorite animals, he started creating custom pieces for clients as a side business called Clay Critters by Mike. He has customers across the United State and even a few in Canada and England.
"My focus is interpreting animals by hand molding, baking, then hand painting their likeness in clay. Clients can choose between a free-standing, table-top bust or full body sculpture on a visible or hidden post, with a stand." Like his clay figures based on his dog Earl, some of his Clay Critters have been used for charities or fundraising.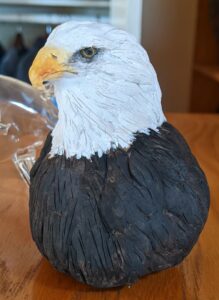 Toppe considers himself a hobbyist sculptor. "I am self-taught," he says. "The most fulfilling part of making the Clay Critters for people is—as I am sculpting or molding—when I suddenly see the genuine expression of the animal staring back at me while I'm making it. I literally say out loud 'there you are!' as we regard each other."
A connection between client and Critter is very important to Toppe. "I usually check in two or three times while I'm making it so they can make certain their favorite aspects of their pet or animal are included in the final piece. While I was never driven to make people cry, I've gotten many people moved to tears when receiving their Critter either as a memorial or as a reminder of the pet they love deeply."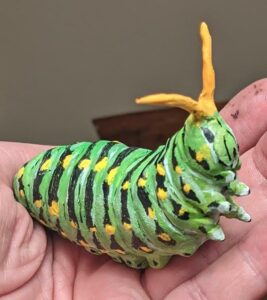 Beyond his website and Facebook, the vast majority of his business is word of mouth from satisfied customers. "The photos people send to me with their Critter, and sometimes with their Critter meeting their pet, gets the largest amount of engagement from people who follow me on social media."
Toppe spent his senior year of high school abroad in Brazil (via the Rotary Club) then went to the university in Marquette, focusing on journalism and writing. "I worked full time while going to school full time," he says. "The job, working for an independent record store as a salesperson and buyer, lit a fire within me and I was good at it."
He decided to move to Minneapolis to further his career. "I paid my dues via entry level jobs in Minneapolis until 1990, and landed a job that allowed me to begin saving to buy my first home. All of my jobs to this day have been in the music retail/distribution industry." He spent most of his adult life exploring different parts of the United States and the world, "not necessarily believing in the concept of a place being a forever home," he says. "Until now."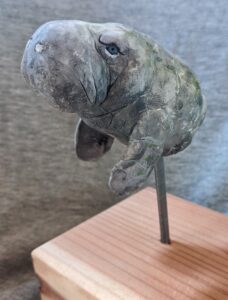 Toppe and his partner Dan—a retired teacher—met on a dating site five years before meeting in person in 2011, while living in Minnesota. "Dan is super handy and when he lived in Minnesota he bought a historically important but dilapidated Victorian home from the city of Minneapolis and then rebuilt it from the bones up," Toppe says.
The two started visiting California together. "One of my fondest memories with Dan was experiencing Cambria on vacation together and deciding we needed to move to the Central Coast. It was meant to be," Toppe recalls. "From the first time I visited the Central Coast it spoke to me in a way that felt calming and familiar. Not to mention stunning in its natural beauty."
Starting a new life in Morro Bay was an easy transition, he says. Since making the move, the couple definitely feels more at ease with taking life at a slower pace. They have found enjoyment in the simple pleasures of life and no longer feel the urge to run around and keep busy like they used to when they lived in bigger cities.
"We love sharing the riches of the area with friends and family who have come to town," Toppe says. "The ecological diversity here is so vast we feel like we could spend the rest of our lives exploring it."