This event was presented November 11, 2022-April 1, 2023.
---
San Luis Obispo Botanical Garden's new outdoor exhibition offers sensational lighting that creates an immersive and meditative nocturnal experience.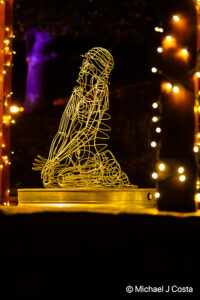 Welcome to Nature Nights, an enchanting, family-friendly holiday light and art display spanning over eight acres. A variety of local culinary delights, regional wine, and beer are available for purchase, too.
SLOBG Executive Director Chenda Lor hopes that Nature Nights will be a crowd pleaser. "I wanted to bring in light and connect it with nature as the focal point, to make it interactive with visitors," she says. "It fills a need in San Luis Obispo County for off-season family attractions. The installation gives the experience of nature at night to those who may not have that opportunity."
Lor is also happy that her childhood dream is coming true. She visited Phoenix's Desert Botanical Garden event, "Luminaria," with her mother when she was a little girl and was inspired. She and the SLOBG board have wanted to host a similar winter light event for more than four years.
Lor finds that connecting with nature is beneficial for health and well-being. "Through a connection to nature, visitors will enjoy mental and physical health benefits inherent to the garden experience," she says.
Mother Nature is at her best when Nature Nights' beautiful, colorful lights showcase the botanical garden's unique plants and local sculpture. The trio of light, flora, and figurative artwork provide a magical sensation as lighted paths guide guests through a fairy tale experience.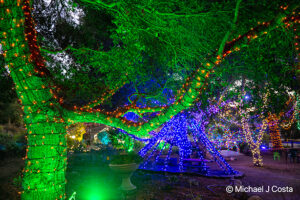 Visitors are greeted by life-size wire figures including floating women, a large owl in flight, a goat that seems at home in the garden, and a woman surfer catching waves of night air. Even the garden's trees and buildings are illuminated with a glow of orchestrated lights.
The dreamlike event features Bryn Forbes' large-format digital light projections featuring captivating images of nature. Forbes' imagery is magnified on surrounding hillsides, buildings, and artifacts, creating a visual experience like no other.
Kody Cava's colorful lighting wizardry is the backdrop for Nature Nights. He is best known for Cambria Christmas Market's acclaimed lighting. Cava's strategically crafted lighting guides guests as they walk, provides visual accents to organic forms in the garden, and emphasizes Cambria artist Michael Reddell's figurative wire sculptures.
Reddell's iconic sculpture collection is a spectacular focus to the enchanted night-time setting. The artist is thrilled to feature his illuminated wire sculptures for new audiences of all ages. He sees this exhibition as a true visionary accomplishment. "This is what I have always hoped for," he says. "I have always wanted to put these figures in the dark with lights on them. These pieces have no volume—they are all lines. During the day they are like ghosts, they can't be seen, so they crave the darkness and the light."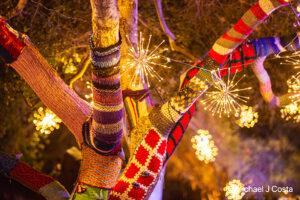 He says Nature Nights provides exactly the best light for his work. "The sculptures literally come to life as the night falls. They illuminate with character and take on an identity and personality of their own."
Reddell recalls the process of creating these imaginative figures and bringing the sculptures to life. "When I first started I had one idea of how I was going to create these figures. But as I began the process of building the skeleton shell I felt every line was artistic, and went in a different direction. I've been obsessed with the power of the human figure for so long. My current work is life scale and larger. My focus is on permanent placements in locations viewable by significant numbers of people—public, natural, retail, and corporate environments."
Lor says the addition of Reddell's sculpture is very important to the space. "His art is so perfect for Nature Nights," she says. "They have a little bit of movement. All of his natural forms with contour lines is like having a drawing run 3D right in front of your eyes, so that you can see it move with the breeze and feel it integrated in the space. Having foliage surround the art and having lights bounce off the lines of the figures is just magical."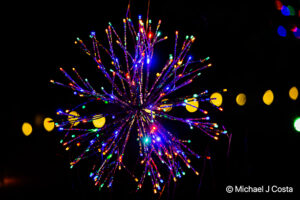 Lor acknowledged that an award winning and internationally-known team came together to produce this exquisite event in San Luis Obispo County.
Tracy Strann, SLOBG's director of communication and events, helped design Nature Nights. She has remarkable experience for this new installation, most notably as the founding executive director of Bruce Munro's Field of Light at Sensorio in Paso Robles.
Stann recalls the beginning of the project more than four years ago. "This is an incredible achievement that has taken the work of everyone on board to achieve," she says. It's a unique experience because it's in a botanical garden and includes several artists throughout.
"Every step you take through this garden, viewers will see something new, and it's an experience for every age," Stann says. "Whether you're one or eighty-one, this experience is for everyone."
It's amazing. All the beautiful lights mixed with the garden, it's a magical feeling. You start to feel the change of weather, mixed with lights, combined with the magic that only nature can provide. It can just leave you speechless." ~ Tracie Loscotoff, Nature Nights staff member
Strann sees this event as a big push to support SLOBG's efforts by putting it in the public eye. As a nonprofit, this nighttime experience is a fundraising event and brings awareness. "Although this botanical garden has been here for over thirty years, it still is not well known," she says. "This event is our opportunity to change that."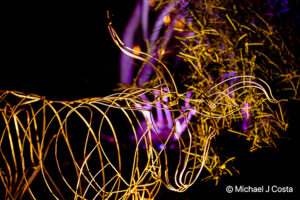 Currently SLOBG owns 150 acres, but only eight of those have been developed. Its vision is to develop the entire land in the next five years by aggressively moving forward with fundraising events. Nature Nights will contribute mightily to making that dream a reality.
"It just blows my mind in what I am seeing here today," says MaryAnn Rutshaw, former president of SLOBG's board of directors. "This garden was just nothing and now it is like something you see in Pasadena or Los Angeles." Remembering earlier days, she is amazed by the progress and how far the organization has come in her lifetime. She has seen the gardens grow and change over time including construction of the education building and amphitheater during her term.
SLOBG has created a team of volunteers and professionals with the vision to bring the nonprofit to its fullest potential through awareness.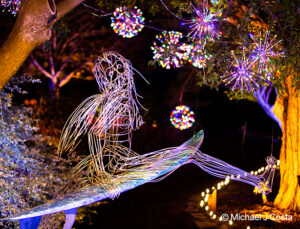 Tracie Loscotoff feels very lucky to be working for Nature Nights. "It's amazing. All the beautiful lights mixed with the garden, it's a magical feeling." She credits the environment as a fundamental part of the experience itself. "You start to feel the change of weather, mixed with lights, combined with the magic that only nature can provide. It can just leave you speechless."
Adding to its success is the exhibit's simple connection with nature. San Luis Obispo Botanical Garden has remained focused on its roots (no pun intended). A nonprofit group formed more than 30 years ago, its members and volunteers are benefiting from the fruit of their labors.
The message of Nature Nights is a positive one. This interactive sensory experience allows individuals of all ages to connect with the lighted space, nature, and the botanical garden as a resource for all to enjoy. Take a walk this winter in a Central Coast wonderland.