Photos by Michael J Costa
For hours of operation, to purchase tickets, and for more information visit Sensorio.
---
What has more than 58,000 stemmed lit spheres and 69 illuminated light towers spread along a 15-acre parcel of land with beautiful oak trees scattered about, and morphs into a multi-color outdoor light show that can only be seen in the dark of night?
It isn't an alien spacecraft from another planet, or something straight out of the X-Files, or a ride at Disneyland—it's Sensorio in Paso Robles, right in our own backyard.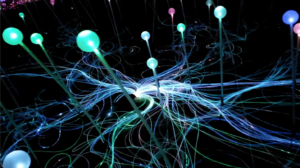 The exhibition, run by fiber optics and powered by solar, that first sparked the imagination of artist and creator Bruce Munro, has now turned into a major art installation, hitting the "what to see and do" global market at warp speed and becoming a national sensation that continues to generate a future for itself in the wine country of the Central Coast.
Locals and travelers alike are treated to this amazing gift to the senses, which has been experienced by people of all ages and cultures. Come early, before dark, so you can watch the transition from lights first dimly coming on to when the magic really happens as darkness unfolds.
While driving past the wineries on Highway 46, you wouldn't have a clue that this 15-acre parcel of land exists. The groundbreaking exhibition, first opened May 19, 2019, has played host to more than a million visitors. Slated to close in December 2020, Sensorio has been extended to December 2022. It's a mixture of nature and art, giving the viewer an opportunity to experience a luminous optical bloom through the rolling hills of wine country.
Munro's vision was ignited in the early 1980s when Munro took up employment in the design and light industry, where he also studied natural light. His passion then began to grow for art. Using light is his way of connecting with his audience on a more personal and human level. His reputation is known all around the world—from Australia to his home town of Wiltshire, England, to London and New York.
Now, popularity of his show on the Central Coast is gaining momentum. Visitors stand in awe of what is displayed before them like a canvas being brushed with color. Only instead, the earth is the canvas. Crowds are so impressed with the lighted installation display that they are returning multiple times, bringing family and friends. The experience for some is like walking through a celestial array of stars.
Paso Robles, San Luis Obispo County, and the Central Coast have become significant travel destinations, and the development of Sensorio adds a whole new level to what visitors and locals can experience during their time here.
Art is amazing in that it allows each person the ability to be stimulated by what is presented right in front of them. At the same time, it is a great escape. The exchange experience is so personal, it may even feel out of this world. Munro's ability to orbit his audience to another galaxy is truly amazing.
Sensorio affects everyone differently: some want to sit quietly and away from others to enjoy, or even meditate. When the sky is filled with stars and the moon is shining down, you feel the connection between the land and the great universe beyond: you are mesmerized. It is ethereal and magical. For some, the word spiritual has been used to describe their experience.
One of the best ways to really get a full immersive experience of the lights is to arrive about 45 minutes before the fiber optics magic show actually begins. That provides the opportunity to engage with the entire production of the light, which begins right at sunset's golden hour.
Strolling along the wide and easy-to-walk paths (which are wheelchair and walker accessible), art enthusiasts delight in the sense of calm and relief, as if the installation is forcing them to stop, take a breath, and invite relaxation into their lives. It is similar to lying in a grassy meadow and watching the Milky Way pass by, one star at a time.
As you gravitate to the west end of the installation, you will find one of the most popular spots to watch the lights as they illuminate and get brighter and more colorful. The south side offers a prime view of the sun slipping over the horizon, offering a chance to enjoy the natural landscape of rolling hills lined with tall swaying grasses.
Be alert and keep a watchful eye on the lights as the sun sets; they appear to turn on in clusters depending on which areas darken first. After the sun sets, most guests begin wandering along the installation's winding paths. The outermost pathways are the best way to go; they lead you just half a mile along, but most visitors take advantage of the time and end up making more than a few laps around the grounds in order to get a full view of the lights in all their glory.
Munro's installation has made a connection to both the universe and humanity. It is refreshing to step into a world filled with lights and colors that invites you into a space where art, technology, and science meet.
Phases are expected to develop over an impressive five- to six-year period. Who knows where Bruce Munro's vision will expand and what new features he will add, making this exhibit a staple for the Central Coast. It's a definite "must do" for any outdoor entertainment plans.