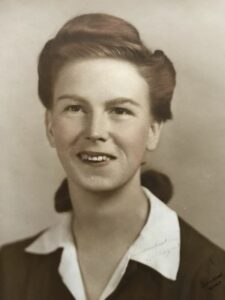 That my twin sister and I were to behave was not only required, it was simply understood.
That our sorrows and our joys were to be born without complaint or excess, were deeply entrenched not by her words, but by example. She would occasionally reference the term "intestinal fortitude." It was a foreign concept I now understand, knowing it was that which got her through the Great Depression, the Second World War years, our father's illness, and her own battles with colon cancer, not once, but twice.
She was always glad to meet anyone, no matter their status, and genuinely so. She smiled easily and often, and let us know our great-grandmother's nickname had been "Happy." When she entered a room it was with joyfulness and a zest that were most evident in her wonderful crooked smile.
That she never "scrimped," but that she certainly knew how to save, assured us at Christmas that we'd always get what we wanted from Santa Claus. She was always a child in the holiday season—I suppose a result of growing up with a lone orange as her special present. She loved giving presents even more, and was always sure to provide gifts to her friends.
My sister always referenced what she termed the "grace notes" in the intonation of her voice. She had a certain way of saying "Charles" that I can still hear on certain occasions, and that is one of the things I most miss about her.
I suppose I have as many memories as I have tears, for they both flow freely when I think of her.