Larry Le Brane's art is whimsical and captivating, with fused glass, found objects, and offbeat materials, all created with intricate craftsmanship. He designs eclectic contemporary sculpture, drawings, paintings, and fine crafts.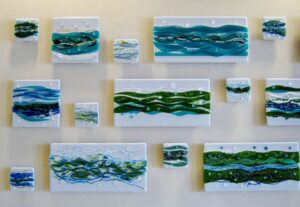 Collectors, fans, and students appreciate his humorous approach to creating and teaching. His unique and whimsical pieces illustrate the story behind this artist of many talents. Although Le Brane's current art combines fused glass and found objects, he also has an entire collection devoted to drawing and paintings.
Beginning his studies at an early age, Le Brane put all his energy into educating himself by earning a master's degree in fine art from Otis Art Institute in Los Angeles. He has taught fine art courses at Orange Coast College and through Cuesta College's Community Programs for more than 40 years.
I'm a selective scavenger, haunting thrift shops and yard sales for inspiration and unusual cast-offs. I blend my quirky treasures into eye-pleasing creations with colorful fused glass, whimsy, and detailed artistry from an academic but street-wise perspective." ~ Larry Le Brane
Passionate about fused glass and the art of glass, he offers private classes in his Baywood Park studio. He is an active member of SLO County Arts, SLO Museum of Art, Central Coast Sculptors, Central Coast Artist Collective, Cambria Allied Arts, and Paso Robles Art Association. He has been a resident artist at Studios on the Park in Paso Robles as well, all of which has paid off over time by creating a brand and style that is known throughout the Central Coast and beyond. His award-winning sculpture and fine art are regularly featured in California exhibits, art venues, and social media, and are included in public and private collections nationwide.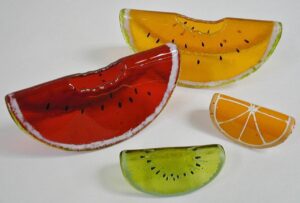 Being an artist is Le Brane's full-time job, and it is important to him to stay focused on creating art.  He readily admits his wife, Ronda, is the mastermind behind the social media side of promoting his art. "She has believed in me and stood next to me as the art began to flow," he says.
"I met Ronda in a West Coast dance class in Westminster, California, then we started dating four months later," he says. "We really liked dancing to the blues back then and still do occasionally. We also had humor in common; using comedy and absurdity has been woven into our daily married lives for over 25 years."
His wife handles his promotion and social media outreach, exhibit opportunities, student communication, photo archives, sales, and all of Le Brane Design's administrative work. "This gives me more time in the studio," he says. "Most artists have to do all those support tasks, plus make art. I'm grateful for her help and support."
The couple fell in love with the Central Coast, and most specifically Los Osos, 10 years before they eventually moved here in 2003.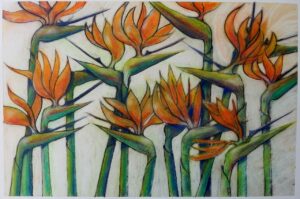 "We feel very lucky to live near Sweet Springs Preserve, Montaña de Oro and our beautiful coastline," he says. "I love walking through our town. This community is very enthusiastic and appreciative of those living a creative lifestyle. I'm grateful that locals and guests to our area value my fine art and support my artistic efforts."
Looking back over time, Le Brane recalls his inspiration for art at an early age. "I sketched all during childhood. But my Catholic high school didn't have art classes. So, I was self-taught until I attended San Bernardino Valley College." Attending Otis Art Institute with an emphasis in design and drawing, he recalls his influences in art school were Joseph Mugnaini, Rico Lebrun, and Howard Warshaw.
Each project is a journey to a place I've never been before, or to a place I revisit by taking a different route. The simplest idea will give me a destination, but more importantly, it gives me a beginning or a first step. I'm always open to changing my destination by asking questions along the way: What if, why not, or how about…? I follow my Muse." ~ Larry Le Brane
Like many local artists, he did the circuit of local festivals. His first was the Morro Bay Winter Bird Festival, along with San Luis Obispo Museum of Art's Holiday Art Market, Paso Robles Festival of the Arts, and Art in the Park at Dinosaur Caves in Shell Beach. "I used to participate in our region's annual Open Studios Art Tour for several years, too," he says. "Dinosaur Caves was a great move to learn about our local art economy and art sales."
In 2006, another artist-vendor, painter Rosanne Seitz, invited him to join her at Gallery at the Network (now closed) that she co-owned with two other artists. "I really enjoyed being part of that downtown SLO art scene for over nine years," he says.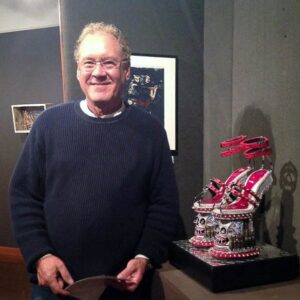 "Though it's great to sell art, these days I'm more interested in creating art, and in getting eyes on what I make," he says. "As a young artist, I had fewer ideas, and relatively unlimited time to make them. Today, I have a time limit on the many ideas I juggle every day. I know how much money's in the bank to pay the bills. But I don't know how many years I have left on the calendar to create. So every day, I'm selective about the fine art projects I want to tackle."
At one point, his art was featured at six Central Coast venues, but the economy, changing professional priorities and COVID changed all that. He's more selective about traveling outside the county to show his work now. He's often invited to be a guest speaker, and has been a juror for regional art exhibitions and portfolio reviews.
"I like staying close to Los Osos," he says. His art is currently featured at Costa Gallery in Los Osos, and Deprise Brescia Art Gallery and Studios on the Park in Paso Robles.