A new Hollywood movie recently wrapped up filming in Morro Bay, and if you attend the 2024 San Luis Obispo International Film Festival, you may be among the first to see it.
Camera, directed and produced by Jay Silverman, finished shooting last April after using various locations around Morro Bay and at the Piedras Blancas Light Station. Locations in Santa Clarita also were used by filmmakers.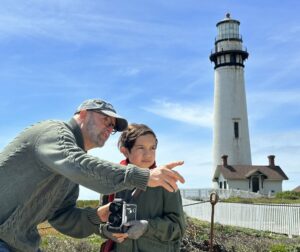 The independently-produced family drama tells the story of a nine-year-old boy who is unable to speak, watching as he struggles to adapt to the small fishing town where he has just moved with his widowed, hard-working mother.
Brought together by a broken film format camera, the boy (newcomer Miguel Gabriel) and a kind repair shop owner (Beau Bridges) form an unlikely friendship.
Meanwhile, with the local fishing industry in decline, the townspeople become fiercely divided as to whether to stake their futures on building a luxury hotel—which will surely bring in new jobs—or fight to keep things the way they have been for generations.
The young boy uses his newly-found camera skills to capture the goodness in people, and in doing so, heals a wounded community.
The cast also includes Bruce Davison and Jessica Parker Kennedy.
Producer-director Silverman explains on his website that it was easy to attach himself to the script, written by Jamie Murphy, a Nicholl Fellowship semi-finalist.
"A single photograph has the power to significantly impact a person's life," he says. "Not just the viewer, but the person who captures it as well. This is something I know first-hand—it's the reason I spent 35 years as a professional photographer, and it's the same reason I endeavored to direct Camera.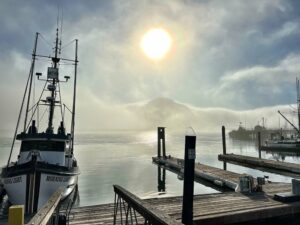 "While my experience as a photographer convinced me to pick up this script, it was my experience as a father that kept me turning the pages, moving me beyond words. Having raised a daughter born with impaired speech, it was easy for me to relate to this story's young protagonist, Oscar, and the older man who sees his artistic potential and dedicates himself to sharing it with the world. Their friendship is the beating heart of Camera."
Silverman is currently seeking a distribution deal for the film, which has been submitted in competition for the 2024 San Luis Obispo International Film Festival, slated for next April 25-30, though no final decision has been made by festival officials.
Camera follows in the tradition of other Hollywood productions using Morro Bay as a backdrop, including Murder by Numbers (2002) and White Orchid (2018).
To learn more about the project, check out the special behind-the-scenes featurette.