This production was scheduled October 13-29, 2023.
---
By the Sea Productions is promising "Martians, mayhem, and death rays" as part of its current production of the famous H.G. Welles War of the Worlds radio show that caused a panic when it aired in the United States more than 80 years ago.
Obviously, War of the Worlds the play isn't just an audio version—it's a visual re-enactment of the broadcast with yes, indeed, the promised aliens and weapons, enveloping the audience in the chaos of their resulting deadly interactions with the bewildered people of Earth.
For a show leading up to Halloween, it's a fun romp with some spooky twists: the black-clad director Rick Bruce (in an appropriately grave voice) providing pre-show and post-show commentary, eerie lighting and sound effects, and a couple of genuinely creepy monstrosities thanks to the work of Russ Snow. The crew members running the chilling effects, including stage manager Rhonda Crowfoot and Jatzibe Sandoval on lights and sound, hit their marks again and again, achieving an audience-pleasing immersion into the action on many fronts that should give a good scare to anyone looking for an unearthly—and downright campy—experience.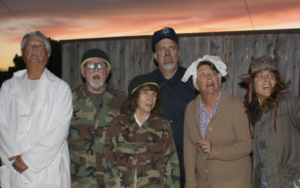 After the director provides some up-front advice to the audience ("Have fun!"), his cast of characters proceeds to calmly do anything but—alternately acting as increasingly somber news announcers, measured academics, harried military leaders, and terrified farmers. Chrys Barnes, Larry Barnes, Carter Broad, Joyce Calderone, Rhonda Crowfoot, Abe Lincoln, Jim Luke, Rayna Ortiz, Laura Richie, Sandy Schwarer, and Russell Snow are all earnestness as they contribute to the production's evocation of America between two world wars—when Edgar Bergen and Charlie McCarthy appeared on radio's Chase and Sanborn Hour, "Stardust" was the standard of Big Band music, and no one blinked an eye at ads for Chesterfield cigarettes.
The bulk of the show's action takes place in the first and strongest act. If you close your eyes, you just might be transported back to what it was like to hear the story as it was told in 1938—except you'd miss the smoke and terrified faces and flickering lights that enhance the tale here.
The shorter, talkier second act doesn't match the terror and visceral gut punches of the first act, as it merely relays the outcome of humanity's war with another world. But it does end with the apology that the radio drama's original director, Orson Welles, offered up, that it was the Mercury Theatre's version of "dressing up in a sheet and jumping out of a bush and saying 'boo!'"
So, if you've never heard the original radio drama, or if you like good old-fashioned scary stories, or if you yearn for a true Halloween treat, War of the Worlds at By the Sea Productions is for you. The show runs through October 29.