This event is scheduled October 14-15 and 21-22, 2023.
---
The 25th annual Open Studios Art Tour, featuring nearly 150 local artists, is scheduled the weekends of October 14-15 and 21-22 throughout San Luis Obispo County during National Arts and Humanities Month.
Fine artists and crafters open their studios to showcase their art and share their processes so viewers can visit art at its source. The tour is organized by the San Luis Obispo County Arts Council.
A preview show and kick-off celebration—with food, a raffle, and a sampling of artwork from throughout the county—is scheduled Friday, October 13 from 6 to 9 p.m. at The Bunker in San Luis Obispo. Tickets for the preview are $20, and parking for the event is at Bang the Drum Brewery at 1150 Laurel Lane Suite 130 in San Luis Obispo.
Open Studios connects artists like myself with the local community and the community with artists in a very personal way. It is always a really positive experience for both parties." — Open Studios Artist Tricia Reichart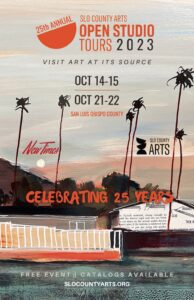 Open Studios catalogs, with cover image by local artist Holly Beals, are available digitally and for pickup in person at The Bunker, EDNA Contemporary, SLO Museum of Art, and Art Central in San Luis Obispo; Studios on the Park in Paso Robles; The ARTery in Atascadero; Cambria Center for the Arts and Cruise Control Gallery in Cambria; Art Center Morro Bay; Left Field Gallery in Los Osos; The Clark Center in Arroyo Grande; Ron's Nursery in Halcyon; and DANA Adobe and Cultural Center in Nipomo.
You can create self-guided tours using the catalog or use a new feature this year, "Planned Routes," which groups studios by medium and region. They include the Los Osos Jewelry and Functional Art Route, Pacific Coast Highway Route, North County Sculpture Route, and more. Local wineries and restaurants sponsor each route and provide discounts to visitors. You can also plan a tour based on the demonstrations and workshops occurring at studios.