Photos by John Lindsey
This performance was held August 25, 2023.
---
The classic rock band Chicago turns 56 this year, but based on its sold-out performance August 25 at Vina Robles, the veteran musicians appear to be getting stronger every day.
Despite some of the original band members being in their mid-70s, the group hardly paused for breath during a polished, high-energy, two-hour-and-fifteen-minute set, highlighting music that most of us grew up on.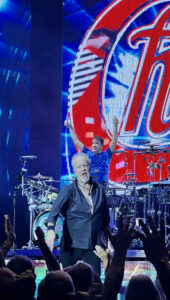 As James Pankow cracked early in the evening, "We're going to play all the hits you've come to hear. At least, the ones we can remember."
There is certainly a lot of music in the Chicago catalogue to remember. Their discography includes 21 Top 10 singles, five consecutive Number One albums, and 11 Number One singles—a legacy that finally earned them induction into the Rock & Roll Hall of Fame in 2016.
Originally called Chicago Transit Authority, the band came of age during the "horns friendly" era of Blood, Sweat & Tears and Chase. But the former faded away and the latter lost most of its members in a tragic 1974 plane crash.
Only Chicago survived the '70s, despite the death of original lead vocalist Terry Kath in 1978, before confronting the super-ego of replacement lead singer Peter Cetera in the early '80s. They've held on all this time, selling more than 100,000,000 records in the process.
Many people may not be able to name any of the ten musicians that took the stage at Vina Robles, but judging from all the audience sing-alongs, they certainly knew the music.
Opening the first 55-minute set with longtime Chicago standards "Introduction" and "Dialogue (Part I and II)," singer Neil Donell struggled initially to overcome a muddied sound mix. Things jelled on stage by the time the band served up "Call on Me" and "Wake Up Sunshine"—after that, Chicago cranked up the volume, threw it into overdrive, and got down to serious business.
Most bands with a horn section tend to stick those players back in the corner somewhere. Someone forgot to tell that to Lee Loughnane (trumpet), Ray Herrmann (saxophone), and Pankow (trombone). These three guys were all over the stage: Left. Right. Center. Fist bumping and gleefully pointing to one another between songs, feeding off each other and the enthusiastic audience, still excited by music they've played a thousand times before.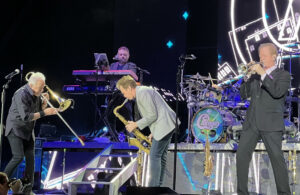 The highlight of the first set was the 13-minute medley "Ballet for a Girl in Buchannon" from their iconic second album, written by Pankow and inspired by a college relationship gone sour. The collection of songs, woven together by Herrmann on the flute, include the Top Ten hits "Make Me Smile" and "Colour My World."
Just as the audience was ready for more, Pankow called for a time out—a 20-minute intermission. But we knew that we would be rewarded for our patience. The second set, running 75 minutes, offered (almost) all the hits, as promised at the beginning.
Name a Chicago song and we heard it. "Beginnings," "Saturday in the Park," "Hard Habit to Break," "Does Anyone Really Know What Time It Is?," "Old Days," and "Just You 'n' Me." There was an extended drum solo on "I'm a Man" featuring Wally Reyes, Jr. and Ramon Yslas that stirred the crowd.
Other than during band member introductions, few words were spoken from the stage—Chicago apparently prefers to let the music take the spotlight. But a few stories from more than 50 years on the road would be entertaining. And if you're going to sing "25 or 6 to 4" (and therefore have us singing it three days later in the shower) could you at least take a minute and explain what the hell that song is about?
Of course they sang that song—as a finale, right after the first encore of "I'm Free." By then, the audience was on its feet, many of them dancing, almost all of them singing along. Dozens rushed up in front of the stage. When it was all over, band members weren't in a hurry to disappear. Several worked the crowd, signing autographs, slapping hands. Just like they have a thousand times before.
It must be a hard habit to break.