This event was scheduled July 26, 2023.
---
You can get "transducified" July 26 at the California Mid-State Fair.
If you're not familiar with that term, don't worry—The Transducers Band will make sure you love the super-high-energy repertoire they will be sharing starting at 7 p.m. Wednesday on the Mission Square Stage.
Band member Jason Stout says a transducer is a device that converts energy from one form to another. "We are converting sonic energy into music," he says. Besides being a musician, Stout is an X-ray technician. In that profession, he uses the transducer wand to investigate people's insides.
The band prides themselves on making sure that everyone enjoys themselves and stays on the dance floor. "We throw some curveballs into the mix as well as covers," says Sam Salerno, who plays bass. "We do a lot of mashups, and we all take turns on vocals."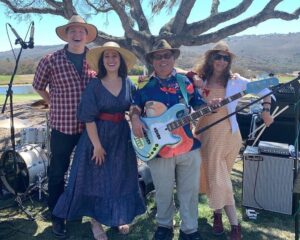 Hailing from a background in musical theater, The Transducers Band music is rooted in rich harmonies and is a blend of funk, pop and what they call "a little outlaw-ballad" sprinkled on top. They are known for their high energy and joyful shows. As a diverse and versatile four-piece band, all members rock strong lead and backing vocals, each showcasing a uniquely rich vocal quality.
Most of the band members have been playing together for about six years, but they feel it has been in the last year or two that they have finally reached their stride. Band members include Stout, Salerno, Taylor Whittemore Safina, and Lisa "Sticks" Rutta.
All four of the members live on the Monterey Peninsula, and they regularly play shows in Monterey. They are looking forward to expanding into San Luis Obispo County and Paso Robles, and will be featured at several wineries in the Paso Robles area as well as Saratoga area.
Drummer Rutta is originally from Los Angeles and moved to the Bay area and then the Monterey area. She showed a musical interest at an early age when she was banging on pots and pans at home. "But my parents put me on piano. At that time, girls didn't get to drum. But… I don't know how I could have been clearer," she jokes. Rutta worked in the high-tech industry and was laid off due to cutbacks. For many of her adult years, she worked with guys that were into music. At a BBQ, she was talking with friends about music and instruments. She told them she loved drumming but had her doubts if she could play the drums since she didn't look like the typical drummer.
"My friends bullied me into going into the drum shop. The guy there encouraged me to pursue drumming. He said he likes to teach those who are driven. It's been an interesting journey. I feel fortunate to do what I do," Rutta says. Her musical influences come from her brother, who played albums by The Beatles, Muddy Waters and The Beach Boys.
My family and friends have been extremely supporting of my music." ~ Arroyo Grande native Taylor Whittemore Safina
Keyboard player and vocalist Taylor Whittemore Safina is from a musical family. Her mother, Tracy Hernandez Whittemore, sang in the Arroyo Grande High School choir and at church. "My family and friends have been extremely supportive of my music," Safina says. "I took piano lessons. My mom was a singer and then she cantered for St. Patrick's Catholic Church. She was also part of the Grace Bible Church choir which really got me into singing.  I was always youngest in the church choir, but they welcomed me."
At Arroyo Grande High School, Safina played flute in the marching band. "I am super grateful for their support. One of my earliest memories is dancing in the living room with my mom's dad to Mariachi music. I never heard the word 'no' when it came to musical interests. I have done some sort of music most of my life and I plan to have some sort of musical outlet for the rest of my life."
Stout was from Sacramento and moved to Carmel in 2015. One of Stout's other hats was in the US Air Force band. He was born and raised singing and playing in church and other places. "I was part of the Air Force gospel service on the Air Force base. And I met a gentleman named Neal Griffin that played saxophone. I really looked up to him."
Stout has found the Monterey area to be very supportive of musicians. He makes it a point to wear other bands' T-shirts as an homage to them while playing. "We want to be very present for other musicians and we come to their shows. We sit in with local bands, also. We are very much about the music community that surrounds us."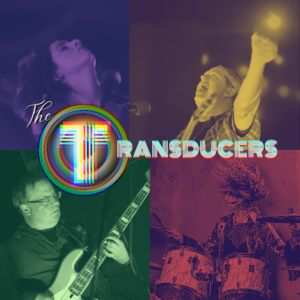 Salerno is from the Monterey Peninsula. When he was growing up, his father owned a radio station. "I listened to thousands of records—from Stevie Wonder to Progressive Rock and artists such as Sting, who has been a major influence on me." For years Salerno has been an English teacher, but he is now moving to make music his focus.
The Transducers Band does covers, but their forte is performing their original music, which the band members describe as funk, rock and outlaw.
"We are all outlaws at heart," Safina says.
Some of the band's musical credits include opening for Melissa Etheridge July 3 at the Saratoga Mountain Winery, and they can be seen opening for Pat Benatar at that same winery on October 2.
They plan to play The Mark in San Luis Obispo, Pine Street Saloon, and several private parties.
Additionally, one of the events they are looking forward to is the West End Festival on August 27 in Sand City. It's a celebration of mostly local artists with all kinds of booths and vendors.
Rutta is generally the one that lines up the gigs for the band. However, Safina took the lead in getting the band signed up for the Mid-State Fair.
"Every summer we would go to the Mid-State Fair," she says. "I've seen a lot of concerts there including the Jonas Brothers. I have very fond memories of the fair.  We heard they were accepting applications, but we had narrowly missed the window to apply. I called my mom and told her we missed the deadline. My mom called Tom Keffury from KJUG who was able to open the application window for a couple more hours. It worked out well. We had just put our EP together. I sent it out. It was a long shot, but it was such a cool event. Then a few days later, we heard we were playing."
Band members say it is an incredible opportunity. They have ordered lots of merchandise to sell including shirts, water bottles, party hats and noise makers.
Rutta says that as a band, it is hard to get noticed. They share on social media, YouTube and other outlets. She says the wonderful thing about the California Mid-State Fair is that they allow locals to be on stage. "I hope they continue to allow newbies to perform," she says. "The organizers are giving many people a great opportunity."
Band members say they would like to see more opportunities for innovative music. The band had an EP release party earlier this year and are getting ready for their LP, which will be actual pressed vinyl which is becoming popular again.
"Our song 'Weatherman' is on our home page on our website," Stout says. "It is one of the first original songs that was 'transducified' by producer Terry Carelton at Bones and Knives."
The Transducers Band is performing at the Mid-State Fair at 7 p.m. on Wednesday, July 26 on the Mission Square Stage. The concert is free with paid fair admission.