This event was scheduled June 16, 2023.
---
For Ringo Starr, you know, it does come easy. Especially when you show up with some talented musicians to help carry that weight.
The iconic ex-Beatle performed with his All-Starr Band at Vina Robles Amphitheatre on June 16, making up for a concert he had to cancel last summer after contracting COVID. But the 82-year-old drummer showed no signs of age nor slowing down as he served up a generous 24-song set that clocked in at two hours and ten minutes.
Music producer David Fishof is credited with creating the original concept of Ringo Starr and the All-Starr Band back in 1989. The idea has worked successfully for more than three decades with various musicians from Joe Walsh to Billy Preston to Levon Helm joining Ringo on stage.
In a typical concert, Ringo sings 10 to 12 songs, featuring a mix of Beatles tunes and his solo work. The so-called "All-Starrs" are well-known, veteran musicians, today more likely on Medicare than on drugs, who have had at least three big hits in their careers.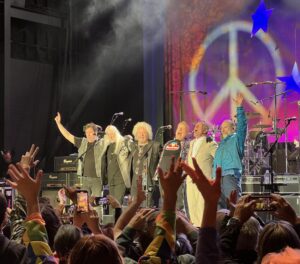 The All-Starrs that came out Friday night have been touring with Ringo since 2019—Edgar Winter (The Edgar Winter Group), Colin Hay (Men at Work), Steve Lukather (Toto), and Hamish Stuart (Average White Band). Gregg Bissonette, drummer for David Lee Roth, and former Toto utility man Warren Ham hovered in the background, serving up vocals and playing so many different instruments between them that they rivaled a full orchestra.
But the spotlight is on Ringo, spry and slender, from the beginning showing so much energy as he rushed on stage. Eat your heart out, Joe Biden.
Ringo bounced through a rendition of "Matchbox" by Carl Perkins, constantly flashing the peace sign and grinning at the audience. He seemed amazed when a woman held up a sign announcing that she had come all the way from Brazil to see the show. Brazil?
Ringo followed the opening number with his own solo hit, "It Don't Come Easy," before sharing the only Beatles song that carries that writing credit of Lennon, McCartney, and Starkey: "What Goes On?"
Ringo, he explained, tried to get top billing on the writing credit. Let's just say it didn't work out.
After those initial three songs, Ringo retreated to his drum set and the passing of the musical baton began. Edgar Winter, apparent authority of alliteration with a thick Texas twang sang "Free Ride," followed by Lukather with "Rosanna," before Stuart did "Pick Up the Pieces," and Hay finished the opening round with "Down Under." All legitimate, classic, popular songs.
Still . . . If you're paying to see Ringo Starr in a concert, how much of Ringo should you reasonably expect to see and hear? Is it enough that he's only singing about half the songs? Do you miss Ringo when he suddenly leaves the stage halfway through the show for 20 minutes (bathroom break? power nap?). There reaches a point in the evening where you might forget that that guy drumming away in the background was once in the greatest band of all time—one of the two surviving members.
That seems to be the way Ringo prefers it. After all, this is the guy who has gotten by with a little help from his friends for decades, right? Why change? He is happy and upbeat throughout the show, preaching peace, love, and understanding. As Elvis Costello might ask, What's so wrong with that? No, Ringo was always in the background as a Beatle. Nothing has changed. He is generous with the spotlight, content to let others do the heavy lifting musically.
Ringo made his presence known on classics like "Yellow Submarine," "Octopus Garden," and "Photograph." The All-Starrs, meanwhile, were well-received by the sold-out crowd as they took us down a musical memory lane of the '70s and '80s. Heck, they even threw in "Johnny B. Goode."
These six guys like each other and they still enjoy performing.
Mention should be made of the extended, 15-minute version of The Edgar Winter Group's 1972 hit "Frankenstein" played during Ringo's absence from the stage. There was an amazing solo by Bissonette on drums, supported by Winter on timbales and punctuated by snippets of The Beatles, Led Zeppelin, and Rolling Stones. Great stuff.
The evening ended with Ringo back up front, introducing the final song by announcing, "If you don't know this song, you're in the wrong venue." But we all did. It's a major reason we showed up at Vina Robles. So, as expected, Ringo sang, "Lend me your ears and I'll sing you a song and I'll try not to sing out of key."
He didn't. Not one false note the entire evening. Somehow, even at 82, Ringo still entertains, making us feel a little better, a bit more hopeful, by the end of the evening.
The current leg of the All-Starr Band tour ended June 17 in San Jose. But the good news is that Ringo, turning 83 in July, hits the road again after Labor Day with California dates scheduled in Modesto (September 16) and Ontario (September 17).