Photos by RyLo Media Design, Ryan C. Loyd
This production is scheduled June 9-July 2, 2023.
---
Most artists will admit there are just a few stories, themes, and musical chords out there—it's how you arrange and present them that achieves creativity and originality.
Put all three aspects in the tumbler, shake them up good and this is what you get: Once, the somewhat recent musical that's now playing at San Luis Obispo Repertory Theatre Wednesday through Sunday until July 2.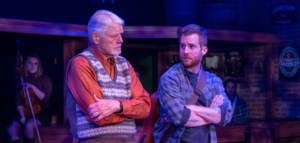 Sure, the narrative has been told a million times: boy meets girl, boy longs for another girl who broke his heart, girl likes boy but already has someone, boy falls for girl but . . . well, it's complicated. In this case, it's really girl meets boy with the rest being pretty formulaic.
But don't mistake those clichés for the same ole story, same ole song and dance. This local production of the popular movie about an Irish busker who meets his muse (or match) packs a mighty wallop in our venerable, tiny downtown theatre, with stellar characters, performances, and choreography.
Did I mention music and singing? In addition to the main characters Guy and Girl, Once features a wonderful ensemble cast of fathers, mothers, friends, shop owners, bankers, etc. who also serve as the orchestra. What a concept.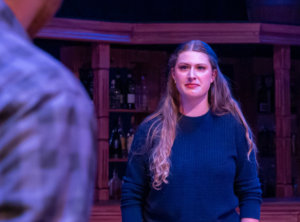 While Guy and Girl's burgeoning relationship is the central theme, told through the musical lens of his guitar, her piano, and their wistful voices, it's that large, teeming mesh of guitars, mandolins, and drums that bring this age-old story to life.
And it's gotta be the hardest-working, able-bodied, talented cast I've ever seen: they're singing, dancing, jumping, acting—even moving props and sets back and forth on the tight stage like ace roadies. It's chaotic choreography at its finest, literally a frenzy of sight and sound.
But this energetic vibe perfectly contrasts with the heartfelt, one-to-one dialogue between Guy and Girl, masterfully performed by Matthew Staley and Claire Gretlein. Their initial tense chemistry morphs into some tender, intimate moments through memorable tunes like the Falling Slowly theme ballad and a haunting opener, Leave.
Kudos to the show's creative A-team of director Sean Paul Bryan, musical director Staley (who also plays lead Guy), choreographer extraordinaire Andrew Silvaggio and SLO REP's managing artistic director Kevin Harris, who deftly handles sound and lighting duties.
I attended a weeknight performance with my friend Ariane; neither of us had seen the movie and only knew its basic premise. Be sure to arrive a half-hour early to get serenaded by the lively, 12-member cast . . . er, orchestra. And remember that this U-shaped, 100-seat theater is very intimate, one might even say intimidating since the audience is right on top of the action.
So grab a drink on the way in and settle in for a very entertaining 150-minute theatrical ride.
This musical production dynamo packs a punch, delivers the goods, hits a home run: whatever cliché you choose is apropos.
:: Colin Jones