Photos by Luis Escobar, Reflections Photography Studio
This event is scheduled April 27-May 14, 2023 at PCPA in Santa Maria; then July 7-23, 2023 at Solvang Festival Theater. This video features director Keenon Hooks talking about the process of getting the show from page to stage.
---
So  . . . if you need a one-word reason to see PCPA's production of Steve Martin and Edie Brickell's Tony-nominated tale Bright Star, try beauty. Or heart. Or music. Well, there's really no reason to limit ourselves—let's use all three. And then some others, too.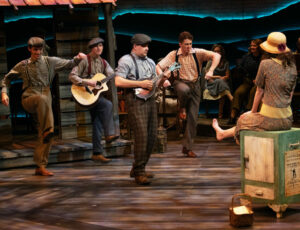 First, beauty. The stage set, designed by Jason Bolen (who gave us the entrancing Amazon jungle of The River Bride earlier this year at PCPA), is distinctive, evocative, and beautiful. From the get-go we feel the luminous Blue Ridge Mountains of North Carolina lurking behind the action, and wonder at the wooden bridge-like scaffolding looming over the stage. The coordination of these scenic elements with an exacting lighting design by Cody Soper (who also worked on The River Bride) and an earthy, period costume design by Jacqueline Heimel (whose attention to detail was also evident in this year's Emma) is impeccable.
Second, heart. The show, based on a real story, presents the intertwined tale of two people: Alice and Billy (the multi-talented guest artists Lesley McKinnell and Jordan Stidham, both steady and true). It's a love story, but not in the way you think. Director/choreographer Keenan Hooks lets the plot unfold at its own pace, letting the actors find their way into their characters and keeping them true to an ultimate revelation that, while not altogether a surprise, is still heartwarming and so, so satisfying. In his director's note, Hooks says the show is about "home," which might not be a specific place, but something that leads us to the "steadfast strength to be found within ourselves, in the people that surround us, and in our roots."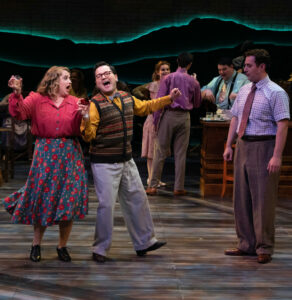 The key that keeps everyone true to Martin & Brickell's call to heart and home? The music. Bluegrass music. Comfortable, downhome, wonderful-to-dance-to tunes that come across as simple yet complex as they evoke hope, but yearning and heartache as well. With almost two dozen different musical numbers, the show moves itself forward as the characters sing and dance to "Way Back in the Day," "I Can't Wait," and even "A Man's Gotta Do," which gives us Erik Stein (a PCPA associate artist) at his deep-voiced, villainous best (every story has to have a bad guy, even this one).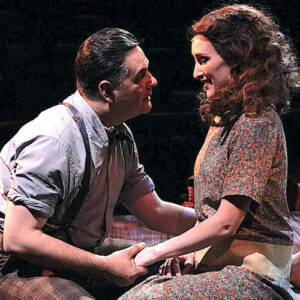 Oh, the music. Michael Wilkins (playing piano and accordion and music director) leads the quintet of musicians who remain onstage throughout the production, interacting with the characters as they, in turn, move in and out of the band's orbit at the back of the stage. Guest artists Grant Watkins on banjo and Jeanne Sumway on cello join Greg Padgett on bass and Patricia Shields on fiddle, and they all never miss a note.
Bright Star, at a bit over two hours (with one 15-minute intermission), is satisfying, entertaining, and a great opportunity to see several of PCPA's resident artists like Kitty Balay, Oscar Emmanuel Fabela, Andrew Philpot, Don Stewart, and George Walker share the spotlight with talented conservatory students, especially Cat Evans and Lottie Arnold in key roles. Occasionally the Steve Martin one-liners you might expect from his co-writing credit shine through as well, so add humor to our list of one-word reasons to go—and enjoy—this show.
If you manage to miss the three-weekend run (til May 14) at the Marian Theatre in Santa Maria, you'll still be able to catch the show at the Solvang Festival Theater July 7-23.