SF Comedy Competition headliner Joe Zimmerman
This event was presented April 1, 2023.
---
Stand-up comedy for me has always been this interesting concept: a very inexact art form with many variables. Most of the time when you attend concerts or watch a sporting event, there's a collective vibe and reaction to the proceedings.
Not so much with comedy. What's funny to the person in the next seat may not be funny to you. Take Jerry Seinfeld: I love his hilarious ensemble sitcom but feel his stand-up schtick is mediocre.
On Saturday night, April 1, four comedians took the Clark Center stage hoping to leave the nearly sold-out crowd convulsed in laughter: the ultimate reward for their efforts. Not a single one dispensed a clichéd April Fool's joke, which meant they meant business. But like everything else in life, their performances were hit and miss.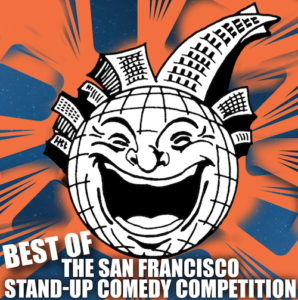 Billed as the Best of the San Francisco Comedy Competition, multi-ethnic host Sammy Obeid got the audience warmed up in trademark long-sleeve t-shirt, stone-washed jeans and colorful sneakers. I'm pretty sure this represents the standard comic uniform for guys.
A self-described beta-male, Obeid mostly commented on his travails as a 16-year stand-up veteran, finally hitting his stride with a funny, unique bit about each of the ten Bill of Rights and how to use them to your advantage when getting pulled over by the police. I don't know anyone who can even name five rights let alone tell a great story about them—very impressive.
But dude: it's Arroyo GrandE, not Arroyo Grand.
First up among the comics was midwestern-born, white millennial Brooke Heinichen, who completely ignored the obvious comedic implications of her cool surname to riff on the usual themes of parents, relationships, and the current generation gap. C'mon, give us one beer-inspired joke—I can already think of several. Anyway, her spiel was cute and insightful but not particularly humorous.
Next we got Ta'Vi from Sacramento: a short, energetic Black woman with sass and attitude that everyone immediately embraced. Her breathless bit about just wanting some "land" resonated with the mostly white, well-heeled Central Coast crowd, and her rap on lovers crying when they learned she was pregnant got a big laugh. "I had a few close calls but Planned Parenthood was closer." Good stuff. Still, her time on stage seemed too brief, and any momentum she created was cut short. Ten more minutes of material and Ta'Vi will be headlining soon.
After a long intermission, headliner Joe Zimmerman greeted us in a deadpan style similar to Steven Wright. But unlike Wright, his set was not off-the-wall stream of consciousness—rather a collection of observations about city life. His best anecdote was as a single white guy finally getting a Costco card, then buying a bag of onions and a huge jar of vinegar for under $10. So now, he's pickling onions.
Playing up his nerd vibe, Zimmerman talked about getting hit by a baseball and the coach asking whether he was a man or a little girl. "Can I just be a nine-year-old boy who doesn't like baseball?" He also doesn't understand why the best athletes always get drafted by the worst teams. "Graduates from Harvard Law School don't have to go work for Ralph's litigators in Toledo."
Zimmerman saved the best bit of his 45-minute set for last: a low-key but hilarious routine about making the mistake of trying Bikram yoga and not being allowed to leave. "I'm really hot, I just finished my coconut water, so please let me go. The instructor says I need to see you to make sure you're okay. But I'm not okay, I'm an adult man. I paid $12 and I'll pay $40 more if you let me leave." He even faked a downward dog to collect his stuff for the failed getaway.
All in all, it was an enjoyable evening of smiles and a few chuckles.
But if you really want some stomach-bending laughter, check out Philly-transplant Craig Shoemaker. He did an hour-plus show at SLO Brew Rock last summer that left the sparse crowd gasping for air. Perhaps the Clark Center or another local venue can bring him back?
:: Colin Jones