Photo by Michael Sheltzer
---
Here along the Central Coast there's no shortage of concerts for worthy causes, nor a lack of local musicians willing to step up and help out.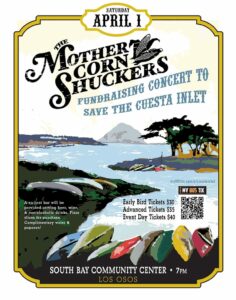 This time, it's "Save Cuesta Inlet," a local nonprofit group raising funds to purchase and protect 15 acres of pristine bay lands from development. Not that the state Coastal Commission would ever allow such a thing to happen, but that's another story for a later time.
Anyhow, on Saturday, April 1 from 7 to 10 p.m., the lively and legendary Mother Corn Shuckers will headline the South Bay Community Center stage in Los Osos. Known for energetic live shows locally since 2010, the eight-piece Shuckers perform a unique blend of American musical genres with foot-stomping original songs and obscure covers.
Tickets cost $35 ($40 at the door) and can be purchased online, with beer, wine, sodas, and pizza slices available for purchase.