It was a crazy, impactful end of 2022 and new year with record rainfall. But two music lovers in Los Osos are doing something fun to help local residents rebuild.
Paul Irving and Gary Freiberg, both well-known show promoters on the Central Coast, have organized a free benefit concert indoors at the South Bay Community Center in Los Osos on Sunday, February 26 from noon to 6 p.m.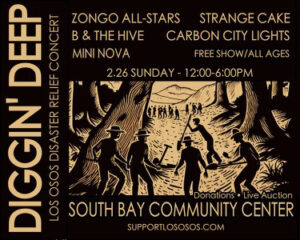 Diggin' Deep features sets from local band stalwarts Zongo All-Stars, B & the Hive, Carbon City Lights, Strange Cake, and Mini Nova, featuring Kenny Lee Lewis from the Steve Miller Band and Scott Martin of WAR.
This free show also includes a silent auction and no-host bar with People Helping People, a local nonprofit group, helping with the event.
Head to Los Osos February 26 to enjoy some wonderful live music while supporting your Central Coast neighbors.