Photos by RyLo Media Design, Ryan C. Loyd
Ring of Fire is onstage at SLO REP from February 10 to March 12, 2023.
---
So . . . Ring of Fire: The Music of Johnny Cash, now playing at San Luis Obispo Repertory Theatre in downtown SLO, is what the title says it is—no more, really, and no less.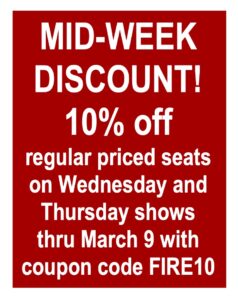 Billed as a "musical journey through Cash's life," the two-hour, two-act show adapted from the Broadway production by Richard Maltby, Jr. and Jason Edwards features more than two dozen songs recorded by Cash between 1955 and 2002, some lightly touched by the five musicians making up the band (such as old gospel tunes like "Will the Circle Be Unbroken") and some given the full-on treatment (such as the raucous "Hey Porter" that caps off the evening—save the encore of "A Boy Named Sue" that leaves the crowd satisfied and heading home humming their own favorites from the night's repertoire).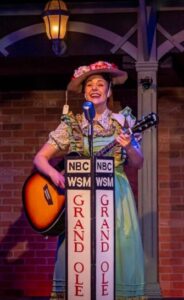 SLO REP is calling this production "a unique, original musical," but this is not a musical as much as it is a playlist of the Man in Black's songs with a few "extras" thrown in, such as Rachel Tietz' playful interpretation of the Grand Ole Opry's long-time comedian Minnie Pearl singing "Flushed from the Bathroom of Your Heart."
Ring of Fire is not part of SLO REP's mainstage season. It's a "gala" and a good time for audience members who will appreciate the deep, resonant tones of Steven Lasiter, who has been brought in from Beaumont, Texas to be Cash's sound-alike. He opens the show using that voice, and closes it in the same style.
The versatile Mike Fiore, well-known to local PCPA, Great American Melodrama, and SLO REP audiences, and Matthew J. Staley, making his SLO REP debut, round out the male vocals, and both have ample opportunities to demonstrate their splendid skills on acoustic and electric guitars. Tietz (another fabulous, familiar Central Coast face) and SLO REP first-timer Jennifer Barnaba supply vocals and instrumental backup.
This quintet of song stylists conspire to offer up quite the volume of sound in the small theatre, and when the lighting and sound effects combine on pieces like "Five Feet High and Rising" and "Get Rhythm" in the first act, it's probable that the guests staying at Hotel San Luis Obispo across the street are enjoying the show as well.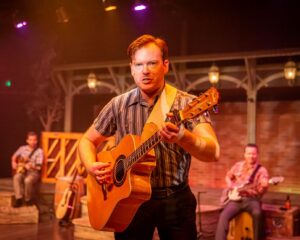 As it is, those inside the theatre can't stop tapping their toes, bobbing their heads, and most definitely singing along as the musicians rattle the rafters in the aging theatre. To be fair, however, there's no shortage of quieter, sentimental songs, such as Barnaba's sweet voice and piano accompaniment to "I Still Miss Someone" and some a cappella in songs like "Angel Band." There's plenty of humor, too (the guys have way too much fun with "Dirty Old Egg Sucking Dog").
At times a somewhat lighter touch in sound and lighting might be warranted on songs like "If I Were a Carpenter" and "Ring of Fire," but then when "Jackson" closes the first act you can't deny that hot and heavy is the way to go with lyrics like "We got married in a fever, hotter than a pepper sprout."
By the time the audience is swept into "I Walk the Line" and "Why Me, Lord?" toward the end of act two, there's no denying that everyone within hearing distance is feeling their deep-down maybe-I-didn't-even-know-I-had-them country/gospel roots. And the appreciation Lasiter expresses when the show winds up, thanking the audience for supporting the arts, feels heart-felt and is a great way to send us off thinking well of the "All-American" Johnny Cash, who during his time on earth crafted connections with most everyone who heard his music.