Photos by Michael J Costa
Gayle Rappaport-Weiland began her career in the arts as a camp counselor at the age of 11, and to this day she holds close to her heart her first paycheck envelope, which she considers an heirloom.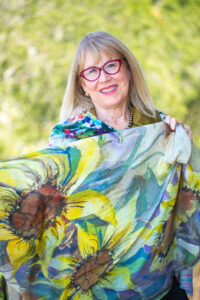 The artist recalls having a paintbrush in her hand since she was a child, and still holds that paintbrush firmly as she begins to create on an empty canvas. You could say that being an artist fits her just like a comfortable glove.
Rappaport-Weiland's interest in art continued throughout her college education, where she earned a degree in recreation with an emphasis in art, environmental issues, and special education. Having a playful spirit and a good work ethic, combined with taking risks and not being afraid to open doors, she has become a successful and seasoned artist over the years.
Being a self-taught artist takes courage, determination, and dedication to your craft. For Rappaport-Weiland, her education went beyond the college classroom and ventured out into the real world. The major learning curve on her artistic journey began when she was fortunate enough to work with nationally known artists Gerald Brommer and Zoltan Szabo. It was then that the spark ignited and the passion for being an artist took hold.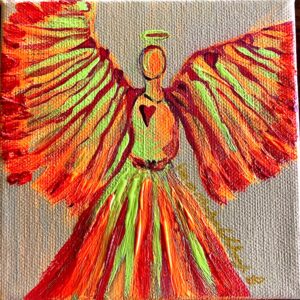 "I was usually the youngest person in the group, and the student who soaked up everything about art that I possibly could," she says. "You might say I was the sponge when it came to learning anything related to art.
"My first intention was not to sell my art, but to teach. When working as a recreation director I taught watercolor classes as part of my job. I posted examples of my work for the class on the bulletin board. I decided to sell my work when someone took it upon themselves to just take one of my originals. Well, if they are well done enough to steal I felt they were good enough to sell. Hence my career as a professional artist began."
Rappaport-Weiland credits luck and hard work for her success, but really feels that she is fortunate enough to have both sides of her brain working equally in creating her art and learning the business side of being an artist. Running a business can be a challenge to manage when the strong pull to create has a higher priority. Rappaport-Weiland understands how to balance the artistic and the business side and finds it to be one of her greatest strengths.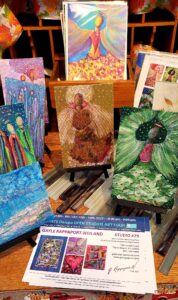 However, she feels the creative side of her is where all the magic happens. "I have angels on my side," she says. "This is where my 'Angel Within' art series comes from. Angels have always shown up in my paintings and I did not paint them out.
"I was coming to a point in my career that success was not enough—I wanted my art to make a difference in people's lives. Once I realized this, then all of a sudden I was painting angels day and night. I believe these angels connect me to others. I often feel I am a conduit to do just that. I believe it is a service, and I am so happy to have the technical skill to bring these angels to life."
As full-time professional artist, Rappaport-Weiland says she loves it. "It is work mixed with fun. I am passionate and love what I do. I am energized from within and feel blessed that this has been my journey. The relationships I forge because of my art are precious and golden to me. Retirement is not in my vocabulary. I will paint until my last breath."
Rappaport-Weiland is grateful every day that circumstances brought her husband and her animal companions to Pismo Beach. "We had visited here for almost 30 years, and living here was out of our reach and was not an option, until one day my husband was asked to open an office in SLO and the rest is history."
Costa Gallery in Los Osos, where she is currently a featured artist, has represented her work since May 2021. Visitors are responding to the unique energy of her "Angel Within" series.
"My art is intuitive and I believe comes from the soul," Rappaport-Weiland says. "I paint what I feel when I feel it unless of course I have a commission. I believe art is energy mixed with the colors of your soul. If you love that about me you will love my art because we are one."
She brings the same originality, enthusiasm, energy, and heart to her paintings as she does to her life. Using rule-breaking techniques that set her apart from other artists, she creates beautiful impressionistic works, using watercolor, acrylic, and mixed media. Her qualifications and expertise, whether as an artist, teacher, curator, juror, or on-air personality, are widely recognized and respected.

Her paintings have been exhibited in galleries and personal exhibitions throughout the United States and in a variety of galleries on the West Coast. A multi-talented artist, she has several limited-edition prints, a greeting card line, art merchandise, a fashion line created with VIDA, and commissioned work including prints of "Summit House at Big Mountain Ski Area" in Whitefish, Montana. Rappaport-Weiland has worked with many companies and other professional clients. Her art has been represented for licensing exclusively by Studio Voltaire, and her floral artwork "Flow" has been licensed nationally by HomeGoods stores.
Paying it forward is one of her life goals. Her resume includes a 20-year stint as an on-air art expert, volunteer, juror, and artist with public television station KVIE in Sacramento, and she is co-creator, producer, and host of the Art Revealed Show, featuring "mini-views" of the arts. She collaborates with fellow artist Ann Ranlett on a website, Appeals for Art, giving donation advice to artists and charities.
Rappaport-Weiland is actively involved in local art, education, and business communities, and as a volunteer brings energy, insight and expertise to events and organizations wherever she participates. She teaches artists of all ages in a step-by-step style through Community Education classes at Cuesta and Sierra community colleges.
One of her favorite pastimes is visiting with students and art collectors at the many events she attends throughout the year. She appreciates being part of the local art scene, and during Open Studios Art Tour in October you can find her in her home studio in Pismo Beach.
Rappaport-Weiland allows her dreams to flow onto the canvas of her life and so far, it's worked. Her motto, passed down from her father, is: You can do anything you put your mind to.