The event reviewed here has ended, but please continue reading. To support current and upcoming events, visit the organization's website for more information.
---
So . . . an audience of movie, music, and movie music lovers were treated to quite a show on Sunday afternoon, October 30, when Orchestra Novo brought the silent comedy Show People to roaring life on the stage of the Harold J. Miossi Cultural & Performing Arts Center at Cuesta College. (Apologies to the MGM lion, whose not-exactly-roaring performance at the top of the film set the stage for the comedic entertainment to come, from both silent screen and live musicians.)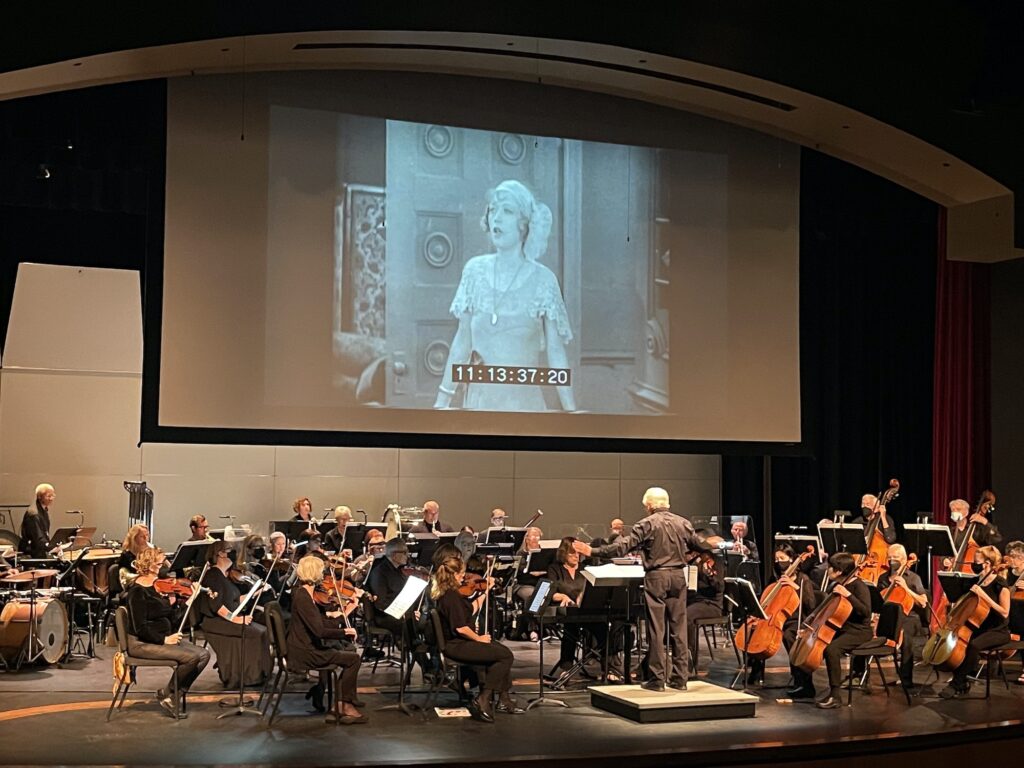 On many levels, the work put into showcasing such a hybrid entertainment was clearly evident during the 80-minute concert/film with no intermission. Conductor Michael Nowak's prodigious preparation was obvious—even without his too-short introduction where he noted the hundreds of hours that he and the orchestra members worked to get the timing down to match almost perfectly the scenes and dialogue of the 1928 movie. The original and modern score, composed by Carl Davis, continuously paralleled and interpreted the action. It was truly an achievement to be long remembered by those in attendance.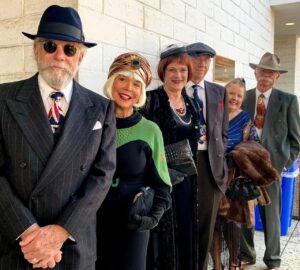 Many of those present for the delightful afternoon came dressed in Roaring '20s costume to reflect the time period of the film, which showcased Hollywood and the talents of Marion Davies (she of Hearst Castle fame, who also was the number one female box office star at the time). It was a kick to see Davies as an actor in one of her big box office successes (which included cameos by many other headliners of the day, including Charlie Chaplin, Douglas Fairbanks, and King Vidor, who directed the film).
It was also a kick to see the more than three dozen talented musicians of Orchestra Novo obviously enjoying their work as they paid very close attention to Nowak, who was the only one onstage who could actually see the movie progressing and thus keep everyone—expertly—in sync with the film.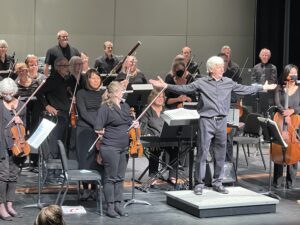 Perhaps the rave reviews by departing audience members might convince Nowak and Orchestra Novo's board and musicians to bring other silent films to life in the same intriguing and energizing style they displayed for Show People. After all, Davis, who has provided the scores for more than six decades of "talkies," also composed original scores for many other silent films (hint, hint). And one other suggestion: next time, Orchestra Novo, please schedule more than one show. Such hard work and virtuosity deserves additional chances to be seen and appreciated by Central Coast audiences.
Show People was sponsored by the City of San Luis Obispo, Linda Ashworth, Jane Gersten (in memory of Roy Gersten), Jane and Dennis Johansen, Marti Lindholm and Allan Smith, Susan Minker, Beverly Smith (in memory of Jim Smith), Neil Tardiff, and New Times.