Photos by Michelle Evans
The event reviewed here has ended, but please continue reading. To support current and upcoming events, visit the organization's website for more information.
---
So . . . by almost every measure, Opera San Luis Obispo's recent presentation of Carousel, delayed from opening last May due to a COVID-19 outbreak, was a triumph.
Let's count the myriad ways its success can be calibrated: numbers in attendance, standing ovations, regal musicianship, superb staging and choreography, lyrical dancers, outstanding artistic direction, well-cast singers, and of course sheer perseverance in mounting such a precisely balanced show after such a delay. The fearful question that remains for OperaSLO now is how do you surmount the high bar this production sets for future productions and audiences?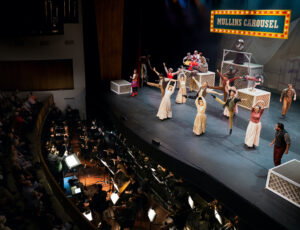 In reality, of course, it's not that frightful a query: it's not a competition, after all. OperaSLO has shown itself to be responsive to SLO County audiences, mounting the beloved classics of both opera and musical theatre repertoire to high acclaim. Carousel fits into this canon neatly and, with this production, the company prodigiously checks off a box on the list of American book musicals it has faithfully and elegantly presented.
Credit for this achievement goes first to a cohesive, collaborative vision articulated by the company's charismatic conductor Brian Asher Alhadeff, the indefatigable stage director Zach Johnson, and the versatile choreographer Andrew Silvaggio. All the pieces fit because of their mastery of the individual details while clearly working in concert to complete the whole picture.
With a company of more than 100 talented individuals, the production, staged at the Performing Arts Center San Luis Obispo, featured many, many, many outstanding performances from cast members, production crew members, and musicians in OperaSLO's Grand Orchestra. The bright voice and engaging presence of Amy Goymerac as Julie Jordan, matched by the precise phrasing and clarity of Keegan Riojas' interpretation of Billy Bigelow, are the easiest to pull out as they are commanding leads, but by no means should their talent and their stage chemistry be taken for granted. Their duet "If I Loved You," and his "Soliloquy" were both moving highlights.
Ally King as Carrie couldn't be more engaging, especially when she's singing great Rodgers and Hammerstein songs with lyrics like "But now that I love him, my heart's in my nose and fish is my favorite perfume." Mister (Enoch) Snow, the rough and rowdy fisherman about whom Carrie is singing, couldn't be more entertaining as portrayed by Mitchell Hardy.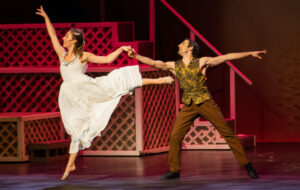 Anna Dreslinski-Cooke as Louise, the daughter of Julie and Billy, joins Lester Gonzalez as the Dream Barker in a delightful "Ballet" with the choreography magically mirroring her parents' heart-tugging and frankly tragic story.
The orchestral accompaniment of the ballet, as throughout the production, was nuanced and seemingly without a misstep or missed note. Thanks to Alhadeff's confident direction, the music never overwhelmed the vocals, serving to enhance the action and the particulars of the storytelling. And while the traditional strings should be rightly showered with high praise, the harp and the woodwinds add the uplifting and mournful notes needed for this heartbreaking love story. Many thanks to Jillian Lopez (harp), Bom An (oboe and English horn), Davis Lerner (bassoon), Suzanne Duffy and Carol Houchens (flutes and piccolo), Richard Dobeck and Sarra Hey Folick (clarinets), and Tawnee Lillo, Greg Magie and Lacey Waggener (French horns).
Speaking of uplift, no review of Rodgers and Hammerstein's second and not-necessarily-guaranteed-successful collaboration after their first (Oklahoma!), could neglect mentioning "You'll Never Walk Alone," one of the show's enduring ballads that here is done mighty justice by the strong, inspiring voice of Karen Dunn.
Ramon Garcia, Kelly Fitzgerald, Mike Suddarth, Thomas Reasoner, Seth Blackburn and Rebecca Johnson rounded out the named cast with their seasoned voices, and seven-year-old Eva Alhadeff kept up with the veterans as Enoch Snow's daughter. The esprit de corps, passion, and vigor of the two dozen other members of the cast kept the audience energized, and honestly enthralled, throughout the three-hour performance.
The one measure where Carousel is left wanting has little, but not nothing, to do with OperaSLO's interpretation of the musical. Since it was first produced on Broadway in 1945, but much more so in this century, the musical has come under the criticism that it comes close to accepting the inevitability of domestic violence, because Julie chooses to stay with the abusive Billy, whose violence is at the dramatic core of his character. Like most of art, Carousel is a product of the time it was created, and because it deals with the cosmic consequences of life and death choices we all make, it may still inform our own choices, for good or bad, on the carousel of our existence.
In 1999, Time magazine named Carousel the best musical of the 20th century. But that doesn't necessarily mean that it's one for the ages. Even if individual songs from the show endure, even if OperaSLO's production is near-perfect, even if the program features messages about where to get local support for domestic abuse and suicide, there's no doubt that 21st century audiences are looking for entertainment that speaks to them where they are today.
Kudos to OperaSLO for a grand production. SLO audiences are looking for, and deserve, such all-around excellence in their theatre-going experiences, as well as content sensitive to modern social sensibilities.