SLO student Corban Lewis, 12, performs J. S. Bach's "Gigue from Suite No. 1 for solo cello, BWV 1007″ with Festival Mozaic Artist-in-Residence Jonah Kim as part of a recent cello master class. Photos by Brian Lawler
"I learned to play the cello by watching videotapes of Pablo Casals when I was very young, much akin to the way kids learn music today from watching YouTube," Festival Mozaic Artist-in-Residence Jonah Kim says about his early introduction to classical cello. "What started as a tool for learning has become the spirit of sharing."
Kim and his family immigrated to New York City in 1995 when he was awarded a full scholarship to The Juilliard School's Pre-College division at the age of seven. "Juilliard taught me what was 'usual.' I got in trouble a lot because I sit differently and I also use my bow in a distinctive manner. I may have been a little stubborn—why play cello the conventional way when my way sounds better? Rather than trying to fit in, I tried to be special. After all, everyone is special."
Kim also plays piano and guitar. "It was my father's influence and inspiration. He's an audiophile," he says. "We would wake up every Sunday morning to Beethoven's Piano Sonata No. 30, Op. 109. I also learned to appreciate other forms of music than classical—specifically, blues, jazz, and bluegrass. I play all of those genres, as well."
I was born into the belief that I had a purpose in life: my music. The point of all of this is connection, acting as a conduit, a lightning rod. I think outside of the box because the box never existed for me." ~ Jonah Kim
Jonah has a younger sister, a data architect, who, along with her parents, has returned to live in Seoul, South Korea, where Kim was born. "My parents are devout Protestants; my father founded churches abroad for Korean immigrants, so we moved around a lot in Europe and the eastern United States," he says. "Sometimes I felt lonely, but it also taught me to make friends quickly. We were never pushed by our parents, but always encouraged. I was born into the belief that I had a purpose in life: my music. The point of all of this is connection, acting as a conduit, a lightning rod. I think outside of the box because the box never existed for me."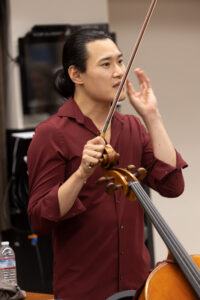 Kim often references Casals, the Spanish and Puerto Rican cellist, composer, and conductor who is generally considered the pre-eminent cellist of all time. "My father wanted me to bring people together—not just with the Bible's teachings, but he taught me to 'stand on the shoulders of the great.'" Kim also refers to the Temple of the Delians and the rolling tide of the Delos logo as portals when he was growing up that freed his imagination "as I sat practically inside the subwoofer of our stereo, enveloped in a musical cocoon. Thirty years later, I'm grateful for this opportunity to stand on the shoulders of giants."
Lloyd Tanner, Festival Mozaic executive director, says that after a two-year hiatus during the pandemic, the organization wanted a way to engage their musicians in a deeper manner. "Jonah is our second Artist-in-Residence," he says. "We encourage these musicians to create and curate their aesthetic within the Festival's framework of the more traditional recital as well as chamber music. We have dual outcomes in mind: We try to move forward as our Artists-in-Residence introduce us to musicians that we might not otherwise know. A second outcome is developing these musicians as a part of our long-term goals—friend-raising for the future."
What Jonah does and understands is that he is a performer—he has a little Mick Jagger in him. Even though he appears carefree and casual, he communicates with the audience his complete seriousness about practice and technique." ~ Festival Mozaic's Lloyd Tanner
According to Tanner, Kim doesn't just play the notes, he creates art. "We seek young talent on the trajectory of a certain level of greatness. What Jonah does and understands is that he is a performer—he has a little Mick Jagger in him," Tanner concedes. "Even though he appears carefree and casual, he communicates with the audience his complete seriousness about practice and technique."
Kim considers the Hungarian cellist and pedagogue János Starker to be one of his biggest musical influences. "I first met him on a Delos Productions recording of the Kodály sonata," Kim says, reflecting on his own musical odyssey. "We became pen pals. Mr. Starker was not only an artist of the highest echelon, but a gracious enough human being to respond to the letters of a seven-year-old aspiring cellist. Years later, when I questioned Kodály's inconsistent notations and traditional interpretations against my harmonic sonorities, Mr. Starker replied, 'Do what sounds good.'"
When Kim was nine, Starker invited him to study with him in Bloomington, Indiana, where he was on the Indiana University music faculty. Two years later, Kim enrolled in the Curtis Institute of Music in Philadelphia under the supervision of Dean Robert Fitzpatrick, continuing to study with Starker as well with visits to Bloomington.
Kim made his solo debut with Wolfgang Sawallisch and the Philadelphia Orchestra when he was 14 and has performed on some of the world's most prestigious stages. At Curtis, he was the first fellow ever to study with multiple instructors, including Orlando Cole, Peter Wiley, and Lynn Harrell. "I felt like I belonged at Curtis, with like-minded students—musical monsters."
Since then, Kim has soloed with the National Symphony, Palm Beach Symphony, Philadelphia Chamber Orchestra, and the Spokane Symphony among others, including the Festival Mozaic Orchestra in San Luis Obispo. He also has graced the stages of Carnegie Hall, the Kennedy Center, and the Wigmore in London among other renowned venues.
Reflecting on Kim's tutelage from multiple instructors, Tanner says "Kim defines a truly American School of cello by reconciling the Italian, German Russian, Franco-Spanish and Hungarian languages."
Kim's favorite cello is the award-winning "Stella" made in San Francisco in 2016 by prized luthier Haide Lin. He pairs Stella with a bow made in Paris in 1904 by Jules Fetique.
I consider music to be a community collaboration. Music is a social activity that brings us together, it creates a bond." ~ Jonah Kim
"At a certain point in my life," Kim says, "I was living a very comfortable lifestyle when a friend of mine encouraged me to pursue more. But orchestral jobs take over your entire life and I wanted time for other endeavors. My friend discovered the San Francisco Ballet has a four-month season and had an opening for a cellist. I auditioned and won the seat."
He found more than a place in the orchestra. "I consider music to be a community collaboration," he says. "Music is a social activity that brings us together, it creates a bond. I began hosting multidisciplinary reading parties, bringing together food, music, and dance. We created social art—maybe the most important of all arts." Kim met his wife, Julia Rowe, a ballerina with the San Francisco Ballet, at one of these gatherings. "She has grounded me in ways I couldn't have imagined."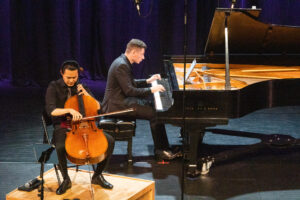 Kim's enthusiasm for chamber music is rooted in his fellowship at Curtis. After moving to San Francisco, he formed Ensemble San Francisco, "a hip, unstuffy and malleable group." He has since launched Trio Barclay, along with pianist Sean Kennard and Dennis Kim, concertmaster of the Pacific Symphony. They are in residence at the Barclay Theater in Orange County. Trio Barclay has premiered a new commission for every concert they have played this season, including "The Other Side," a new composition by Mark Abel. Abel also wrote "Approaching Autumn" for Kim, released in 2021. Kim and pianist Dominic Cheli premiered it live for the first time this fall at a Festival Mozaic concert.
Winner of two Grammy Awards and highly sought after as a musician, Kim says one of his favorite ways of making music is in the recording studio. Kim and Kennard released their debut album in 2020, featuring the romantic sonatas of Rachmaninoff and Barber. It received rave reviews.
While traveling in Hawaii several years ago, Kim was savoring the music at a jazz club in Honolulu when he noticed another Asian male patron. Being the friendly guy that he is, Kim approached and learned that he was Festival Mozaic Music Director Scott Yoo, in Honolulu to conduct the Hawai'i Symphony Orchestra. Yoo invited Kim to join him as a cellist. A friendship with the conductor, Festival Mozaic, and its discerning audience was born.
Kim and his Barclay Trio friends return for his final recital as Festival Mozaic Artist-in-Residence on March 26, 2023.
:: Sandy Baer
Editor's Note: Read music critic Craig Russell's review of Songs That Make Us Dance, a concert featuring Jonah Kim and friends presented by Festival Mozaic on October 2. This article was updated on October 14, 2022.