This production is scheduled November 17-December 23.
---
A Christmas Story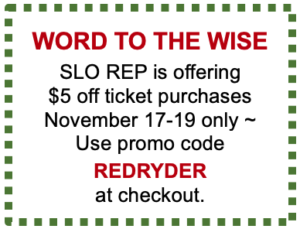 , a play by Philip Grecian based on the motion picture which in turn was based on humorist Jean Sheperd's memoir of growing up in the Midwest in the 1940s, returns to SLO REP for the tenth time beginning November 17.
Performances are slated for Wednesdays, Thursdays, Fridays, and Saturdays at 7 p.m. and Saturdays and Sundays at 2 p.m. (except Thursday, November 23 and Friday, December 1) through December 23.
It's the story of nine-year-old Ralphie Parker (played this time by Jude Biggers) in his quest to get a genuine Red Ryder BB gun under the tree for Christmas. Ralphie pleads his case before his mother, his teacher and even Santa Claus himself at Goldblatt's Department Store. The consistent response: "You'll shoot your eye out!"
All the elements from the beloved motion picture are here, including the family's temperamental exploding furnace, school bully Scut Farkas, the experiment mixing a wet tongue with a cold lamppost, Ralphie's father winning an unexpected prize, and more.
Show sponsors are Phyllis Momtazee Snelling and Nicole & Jay Raftery, and show director sponsor is American Riviera Bank.
A Christmas Story at SLO REP has been part of San Luis Obispo's holiday season since its first production in 2013.