The Mother Corn Shuckers are set for the Beergrass stage at Live Oak Music Festival.
This event was scheduled June 23-25, 2023.
---
June has arrived on the Central Coast and that means many things: graduations, weddings, and the ubiquitous June gloom.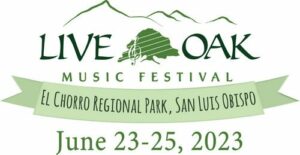 But it's also time for the area's premier live music festival: Live Oak, which once again settles into its new home at El Chorro Regional Park since its move from Santa Barbara County in 2019.
Many stellar musicians and bands have graced the various stages over the decades but you could easily make an argument that 2023 features the strongest line-up ever with Galactic, Neko Case and the Wailers headlining the three-day outdoor concert June 23-25.
Live Oak, a fundraiser event for KCBX-FM radio, literally offers up non-stop music (well, almost—attendees do need to sleep for a few hours) from 1 p.m. on Friday until closing ceremonies at 8:30 p.m. Sunday night.<
But in addition to these big names, the festival showcases several regional and local bands of every imaginable genre. Once such group is local favorite the Mother Corn Shuckers, who will hit the Hot Licks stage on Saturday night at 8 p.m. Lead Shucker Che Miller (trust me, he does it all) could barely contain his excitement when I recently spoke with him about their upcoming show.
"Live Oak is by far our favorite place to perform with the most loving, attentive, smiling, dancing crowd around," gushed Miller. "Our friends and family grew up with the festival so we really look forward to it every year."
Residents of SLO County are fortunate to have this wonderful annual event right in our backyard so kick off your summer with some great musical vibes.
Reserved camping is sold out, but tickets and general camping passes remain on sale.