This event was scheduled May 5-21, 2023.
---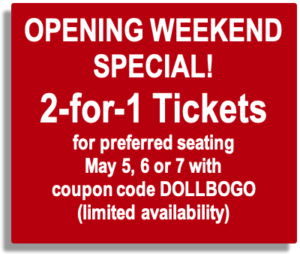 In the final scene of Ibsen's 1879 groundbreaking work A Doll's House, Nora Helmer makes the shocking decision to leave her husband and children, and begin a life on her own. The feminist themes of A Doll's House and the climactic ending in which Nora slams the door on everything in her life was controversial and outrageous in the male-dominated 19th century.
Now, SLO Repertory Theatre presents A Doll's House, Part 2, which picks up 15 years after Nora slammed the door. In this sequel, written by Lucas Hnath in 2017, Nora has become a successful—and controversial—feminist novelist determined to ask for a divorce. SLO REP assures audiences that it's not necessary to see the original work to enjoy this "bitingly funny sequel that unfolds in a series of bristling stand-offs."
Directed by Karin Hendricks-Bolen, assistant professor of acting and performing at Cal Poly, the four-member cast includes Katy Dore, Josh Machamer, Madison Shaheen, and Suzy Newman as Nora.
The creative team behind the show includes scenic designer Jason Bolen; lighting, sound, and projection designer Kevin Harris; and costume designer Barbara Harvey-Abbott.
Sponsored by Bette Kulp and Carol MacCurdy & Rom Nuckols, A Doll's House, Part 2 is onstage at SLO REP May 5-21 on Thursdays, Fridays, and Saturdays at 7 p.m., and on Saturdays and Sundays at 2 p.m. Tom Ammon & Gary Lawson are the show's director sponsors.