"Carrizo, Washburn Wildflowers II" oil on canvas, 22" x 28," by Laurel Sherrie
This event was scheduled May 1-July 31, 2023.
---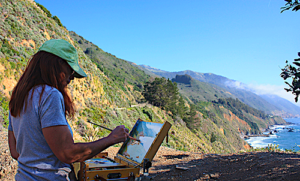 Local landscapes created by Arroyo Grande artist Laurel Sherrie will be featured at Joebella Coffee House in Atascadero for the months of May through July.
"Love the Land," an exhibit featuring Sherrie's original oil paintings, celebrates local scenic vistas. Not only does she highlight special places in SLO County, the artist hopes her work inspires people to get out and experience public lands for themselves.
Sherrie says she treasures painting local landmarks plein air, and the exhibit includes wildflowers at Carrizo Plain, ranch scenes, and of course local coastlines.