PCPA's next production is a story inspired by the Brothers Grimm and Brazilian folklore about love, regret, and two sisters who struggle to be true to each other and their hearts. The River Bride is a lyrical "once upon a time" along the Amazon River, playing February 16 through March 5 in the Severson Theatre in Santa Maria.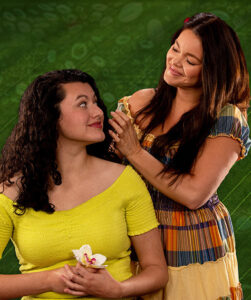 Part of a three-play cycle, "Grim Latino Fairytales," by third-generation Mexican-American poet/playwright Marisela Treviño Orta, the play was developed in residency with Alter Theater Ensemble in San Rafael, California. It premiered at the Oregon Shakespeare Festival in 2016 and has been gracing stages across the country and the UK ever since.
Awarded the National Latino Playwriting Award, The River Bride is inspired by traditional Amazon River folklore about the river dolphin (or "Boto Encanto") which frequently appears in South American mythology. In some myths, these dolphins are magical beings who are playful, clever, and responsible for mysterious occurrences. In other tales, they are symbols of elegance, empathy, and fluid sensuality. Still others tell tales of them taking human form as handsome young men who come from a beautiful world of wealth, without pain or fear of death, often emerging in the evening to seduce young women only to return to the river in the morning never to be seen again.
"In many ways, The River Bride is a story about stories," says director Marilet Martinez. "This unapologetically poetic play asks us to question the stories we are told as well as the stories we tell about ourselves and others."
The cast features Christen Celaya as Helena, Rosie Quintana as Belmira, Johnny Valerio as Moises, Oscar Emmanuel Fabela as Duarte, Hugo Carbajal as Sr. Costa, and Dena Martinez as Sra. Costa.