Most people don't even notice utility boxes on the side of roads. However, some communities in the area have transformed these necessary storage units into works of art. The first utility box in Arroyo Grande to be transformed is located at the corner of James Way and Oak Park Boulevard.
"Art Outside the Box" is the latest project of the Arroyo Grande Public Art (AGPA) committee. The committee is a non-profit, all-volunteer organization. "We envision beautiful, engaging open spaces with public art woven into the public infrastructure, where public art defines and reflects our community identity," said committee president Kathryn Phelan.
"As a group, we are looking around for ways to add beauty to the city," said Art Outside the Box chairperson Shirley Horacek. She said committee members liked what other communities in the Five Cities area had done with the utility boxes and thought they would like to do something similar.
Artists were asked to create something that reflects Arroyo Grande. About 650 artists received applications. Artists were given $1,000 for the project and $250 for supplies.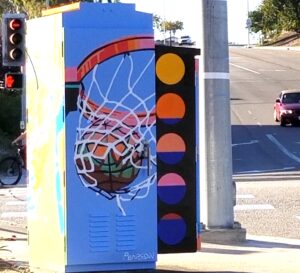 Oscar Pearson is the first artist to complete a utility box. His artwork can be seen at the corner of Oak Park Boulevard and James Way. His vision pays tribute to the activities available to youth.
"My approach was to think about what impacted me growing up," Pearson said. "Playing at the parks was invaluable. And recently during COVID, I was playing a lot of basketball with my brother. I thought about how helpful playing basketball was to cultivate a relationship and for people to bond. AGHS has a team. I thought the design was fitting for both young and old people," he said.
Pearson, 29, grew up in Grover Beach and is an Arroyo Grande High School graduate. He studied art at Allan Hancock College and earned a bachelor's degree from Cal State Long Beach.
"I saw the RFP," he said. "I was drawn to it because of the proximity to my hometown. It's a cool opportunity to paint close to my hometown."
Pearson has been painting public murals for the past few years. He did a mural at Atkinson Park in Santa Maria, at Cal Poly, and on the side of Chacho's Mexican restaurant in Oceano.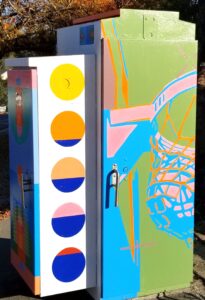 "I was excited to have the opportunity to contribute to a local project," he said. "I have lived here off and on for 29 years. It's a nice opportunity to improve the beauty of our Five Cities area and Arroyo Grande. I hold the Central Coast very close to my heart. I'm glad to have the opportunity to have positive impact."
The challenge of utility boxes, according to Pearson, is that they are in three dimensions. Artists must consider all the sides and how they work in relationship to each other. "I like public projects because you respond to parameters of the given project and respond to the architecture or surface in a creative way. I hope it's evident by the final project," he said. "I want to say thank you to everyone on the Arroyo Grande public art board for the opportunity. I encourage people to get involved in the arts."
Horacek said there are currently four utility boxes set for murals: the completed one at James Way and Oak Park, another in front of City Hall, one at Courtland and Grand, and one at El Camino Real and Brisco Road.
The city has identified 16 utility boxes that could be painted. The next round will be determined depending on the success of this first round.
Horacek said some of the other projects sponsored by AGPA are the diversity sculpture at the Clark Center on the campus of Arroyo Grande High School, handprints of future leaders on the wall of City Council chambers, and the recently revealed butterfly sculpture and garden at the South County Regional Center.
Art has been a major part of Horacek's life. Her background is in art, and she ended up in education, retiring as the superintendent of Ballard School District in Santa Ynez Valley. She has lived in Nipomo and now is an Arroyo Grande resident. She is also the mother-in-law to Arroyo Grande Mayor Caren Ray Russom.
Both Horacek and Phelan encourage people to get involved with Arroyo Grande Public Art, and urge artists to keep their eyes open for the next round of RFPs.
For more information, visit the AGPA website. Donations can be made to the organization by mailing a check made out to Arroyo Grande Public Art, PO Box 008, Arroyo Grande, CA 93421.
:: Cindy Blankenburg