Artwork by Bruce Everett, Templeton
This event has ended. To support current and upcoming events, please visit the organization's website for more information.
---
The 24th annual Open Studios Art Tour (OSAT), a countywide exhibition of local artists' work and processes, spans two weekends this year: October 8-9 and 15-16. Participants self-guide by selecting studios listed in the official catalog, which is available online and at public libraries countywide, Hotel SLO, Art Central, The ARTery, Dallidet Adobe, and Morro Bay Art Center.
SLO County Arts has added some special events in addition to the regular tour stops this year: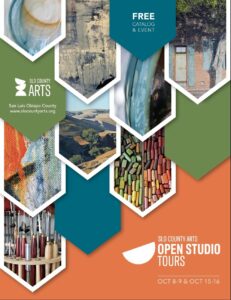 OSAT Preview Show, October 7 from 5 to 8 pm at Hotel SLO
OSAT Kick-Off Celebration, an evening of live music, mingling, a raffle, an art auction, and more, 7-10 pm on October 7 at Bang the Drum Brewery in San Luis Obispo
"Studios in the Wild" fine art market in collaboration with Makeshift Muse on October 8 from noon to 6 pm at Venteux Winery
Equality Mural Project, an artist workshop, mural walking tour, and vinyl music spun by Traffic Records from 10 am to noon on October 15 at The ARTery in Atascadero