This event has ended. To support current and upcoming events, please visit the organization's website for more information.
---
Everyone—and they do mean everyone—is invited to the 24-Hour Grand Opening celebration of the Orange County Museum of Art's new $94 million permanent home in Costa Mesa on October 8.
The new building on the Segerstrom Center for the Arts campus, designed by Thom Mayne of Morphosis Studio, will be "open and activated" for a full 24 hours for visitors to experience inaugural contemporary art exhibitions, film screenings, performances, workshops, food, yoga, and more.
OCMA says come one, come all—"Bring friends, bring family, bring a neighbor"—no tickets or RSVP required.
Comprising over 4,500 works of art, OCMA's permanent collection focuses on art produced during the twentieth and twenty-first centuries by artists with ties to California.  The museum's major holdings include early and mid-century modernism, Bay Area Figuration, assemblage, California Light and Space, Pop Art, Minimalism, and installation art.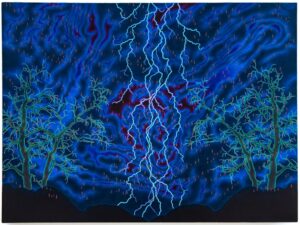 What To Check Out
As part of its suite of opening exhibitions, OCMA is reviving the California Biennial with California Biennial 2022: Pacific Gold. Dating back to 1984, the biennial exemplifies the museum's six-decade history of presenting new developments in contemporary art while identifying emerging artists on the verge of national and international acclaim. The 2022 exhibition features more than 20 artists from across the state who reflect on California and its unique place in the popular American imagination.