Chris Miller, managing director of the Performing Arts Center, is set to retire October 14 after six and a half years on the job.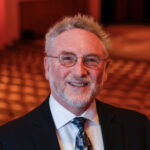 Throughout that time, Miller managed the PAC's $3 million annual operating budget and oversaw nearly 400 annual public and university events, hosting approximately 75,000 event attendees annually.
"It has been an honor and a pleasure to work with the incredible PAC staff during my tenure and support our wonderful community arts organization clients and their events," Miller said. He co-founded the Central Coast Coalition of Arts Leaders.
Miller says he is most proud of how the PAC staff overcame the significant challenges of the COVID-19 pandemic. With the severe financial impact of no live events during fiscal year 2020-21, the staff pivoted to provide critical support for pandemic response and testing on campus, and quickly developed the capacity to produce complex virtual events, including a concert series featuring local artists.
Miller succeeded Ron Regier, who retired as founding managing director in 2016. Ryan Gruss, current director of patron services and campus ticketing, will serve as interim managing director starting October 15.