This event has ended. To support current and upcoming events, please visit the organization's website for more information.
---
Cal Poly will debut its first commissioned outdoor mural with an artist's talk and ribbon-cutting ceremony September 30.
Central Coast-based artist Oscar Pearson painted "Generosity," which is located on the Food Processing Building at the intersection of Highland Drive and Via Carta in the newly renovated Via Carta Plaza adjacent to Campus Market.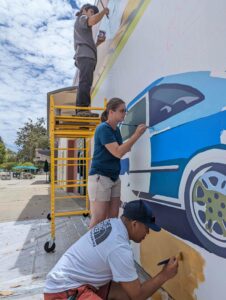 Pearson will give an artist's talk on September 30 in the Advanced Technology Laboratories Building, with a ribbon cutting to follow.
To help beautify, inspire and grow the collection of campus public art, the Cal Poly Corporation commissioned the mural following a thorough proposal process that included a selection committee comprised of Cal Poly students, faculty and staff and a member of the community.
According to a news release, the mural ​​speaks to several themes, including recognizing the valuable contributions of farm laborers on the Central Coast and Cal Poly's student contributions to the field of agriculture.
The mural is part of the university's permanent collection, which serves as a resource to support teaching and scholarly activities at Cal Poly and to enrich the cultural life and aesthetics of the university. Through acquisition, display and preservation, the collection benefits the Cal Poly community of students, faculty, staff and alumni, as well as the community of the Central Coast.