If you need a reason to join, here's a golden one: Ramses the Great and the Gold of the Pharaohs (top left) is now open at the de Young, and as a member, your first visit to see this once-in-a-lifetime exhibition is free, with discounts on return visits for you and your guests. Its fabulous treasures are on exhibit through February 12.
If you need a reason to join now, here's two: Faith Ringgold: American People (top middle) at the de Young presents the work of a pillar of American art in a retrospective 50 years in the making (check out this short video); Guo Pei: Couture Fantasy (top right) presents the premier couturier's beautiful gowns and accessories at the Legion of Honor (check out this short video). Both of these outstanding exhibitions come to a close November 27.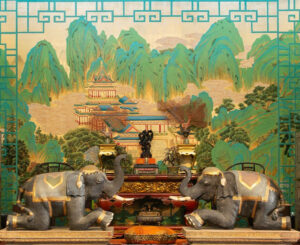 And another reason to join: Fine Arts Museums of San Francisco members are eligible to receive a discount on tickets to the San Francisco Fall Show, the leading international art, antiques, and design fair on the West Coast, October 13-16 at Fort Mason. More than 50 dealers from around the world sell an extraordinary range of fine, contemporary, and decorative arts over four days.